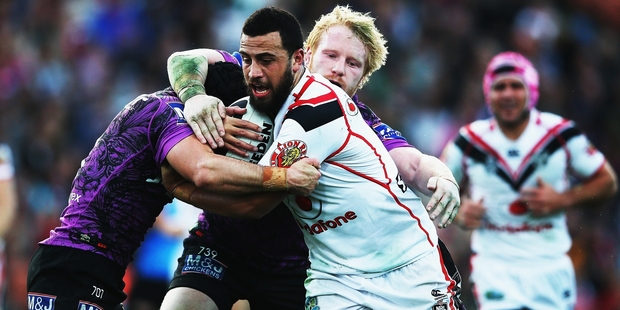 Warriors forward Ben Matulino is looking forward to returning to action in tonight's clash against the Parramatta Eels after paying for his own tickets to watch their last two games at Mt Smart Stadium.
Matulino revealed he took the chance while recovering from minor knee surgery to join friends among the crowd and watched on from behind the goal posts as his teammates went about beating the Brisbane Broncos and Penrith Panthers.
"I've been watching from the north stand, I actually bought my own tickets as well. I went and sat with some mates for both games against the Broncos and Panthers and it was pretty good," he said.
"I've surely missed it [playing] but I've enjoyed watching from the crowd and it's a whole different game from there, commentating to yourself. It's pretty good though, waking up the next day knowing the boys got the win. But it's good to be back. I'm pretty stoked to be coming back into the team with them playing well over the last month."
Matulino, whose last appearance was in the second row against South Sydney in Perth on June 7, has been named on the bench for his 144th first grade appearance. With Sam Rapira out of tonight's match with a back complaint and Queensland prop Jacob Lillyman backing up from Wednesday night's third State of Origin match, the 25-year old will provide some vital go-forward from the front-row.
Matulino says he will shelve his trademark offloads this week as he concentrates on getting through his core roles in his comeback game.
"For me it's just about playing my best and trying to keep a stake in the team. I'll probably hold them in this weekend. I'm just trying to build into my game and don't want to force anything unless it's open. It's just about getting some minutes under my belt and getting used to the impact of the game and how fast it is."
The Eels are one NRL team that remind Matulino of the Warriors, with their unpredictable attacking ability, while he admitted that his side were determined to reverse a recent losing trend against the blue and gold's.
"We've pinpointed that," he said. "They just attack from anywhere on the park and usually when you do video on teams they only attack inside our half, but the Eels just play from wherever and it's difficult to defend. The likes of Joseph Paulo, he plays exactly like Feleti [Mateo] and he's one of their main guys that we're watching out for. If we don't look after him they could pile on some points.
"They've put some points on us over the last two games and the other time was at Eden Park [2011] so they've had the better of us over the last couple of years and it will be good to get a win over them this weekend."
Captain Simon Mannering is excited to have Matulino back in the side and emphasised the value he has brought to the Warriors since debuting back in 2008.
"We probably missed having him out there the last couple weeks," Mannering said. "He's been great for us for a number of seasons and it will be great to have him back out there."