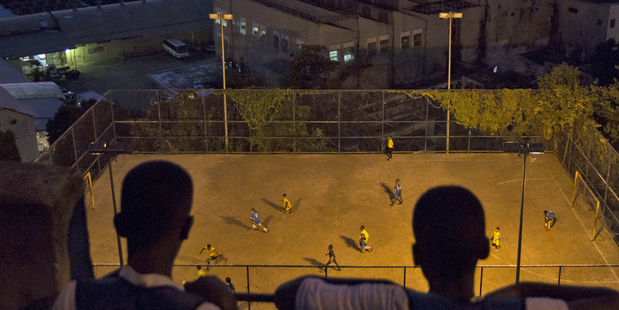 After their sensational exit against Germany, the soul-searching in Brazil has already started, even before the match for third place has kicked off.
Many commentators are questioned Brazil's footballing structures compared to the Germans who are drilled and scouted at a very, early age.
In Brazil thousands of talents slip between the cracks and of those who are scouted by the clubs, the majority end up back in obscurity and possibly poverty.
One of them is Geraldo, the gardener, driver and handyman at my B&B in Rio de Janeiro.
A few years ago, the 31-year-old was playing in the Santos youth team with the likes of Diego, Robinho and Alex, who all ended up playing for European top teams and the Brazilian team.
Geraldo is the other, sobering face of Brazilian football.
Like every Brazilian boy, he started playing pelada, or social football, with his mates in Propiar, a city in the northeastern state of Sergipe.
Geraldo and his friends didn't have a coach and never get any formal guidance, until he is scouted by Sporting Penedense at the age of 16 and earns himself a modest contract at the small club who play in the Alagoas state league.
After a tip-off from his uncle, who has several Santos stars as regulars in his taxi, the club invites young Geraldo to the famous port city club.
The teenager from the north-east gets a life shock when he arrives in the mega city of Sao Paulo where he share the dressing room with so many stars in the making.
"And there is nobody there to help you. You either sink or swim," he tells me.
He soon learns the vital role of the local player agents. "They make the difference whether you make it or not. Players like Robinho got the big contract overseas because of good agents, while others who were much more talented never got their break."
Geraldo is reluctant to hand over 50 per cent of his small wage for a top agent and ends up being farmed out to the Santos satellite clubs in the lower leagues.
Even though the tiny salary often doesn't arrive for months, he keeps playing to support his family up north and because the lack of an alternative.
After nine years as a struggling professional, a serious foot injury makes him reassess the perilous and unstable career path he has chosen.
He moves to Rio de Janeiro where he now rents a modest home with some friends and earns a living as a gardener and a second job as a night watchman.
He still keeps fit and plays pretty serious social pelada football on the weekend with his mates in Rio.
"Regrets? Yes, I am sad I didn't make the big teams but I feel lucky that I at least had the chance to play professional football. Thousands of others never get that opportunity" he refects.
"And if I get a son, I'd encourage him to become a footballer as well."
- Coen Lammers in Brazil