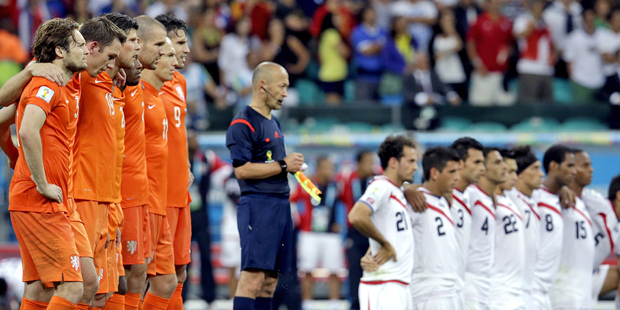 As the World Cup heads into towards its climax, don't be surprised to see one of the biggest games decided by a penalty shootout.
It can be cruel - and doesn't always seem appropriate - but has happened plenty of times before.
In total, four semi final matches and two finals have come down to a spot kick duel from 12 yards, the most recent being the 2006 final between Italy and France.
The final four at this World Cup have mostly impressive records when a match goes beyond 120 minutes.
The team practice a lot - they practice all of the scenarios and German players are mentally very strong
Germany, of course, are the penalty kings. They have never lost a World Cup shootout dating back more than three decades.
Even more impressive, the European giants have not missed a single shootout attempt since their lone miss, by Uli Stielike in 1982.
"I don't know if there is a secret," said one German journalist. "The team practice a lot - they practice all of the scenarios and German players are mentally very strong. The history helps as well - it gives the team a lot of belief."
Brazil and Argentina also have impressive records, having prevailed in three shootouts each and lost only one. Brazil's failure came way back in 1986 in Mexico, while the Albiceleste lost to Germany in Berlin in 2006.
The Dutch had lost their only previous shootout - against Brazil in the 1998 semi final - before their dramatic win over Costa Rica on Sunday.
More on the World Cup semi-finals
• Coen Lammers: Why is Brazil so good?
• Neymar denies aiming for return to World Cup
• Key midfielder's fitness gives Germany semifinal boost
• Best World Cup semifinal lineup ever?
They do however, have one major black mark on their resume, with the semi final shoot-out disaster against Italy at the European Championship in 2000. As hosts of the tournament the Oranje were heavily favoured, especially after Italy were reduced to ten men in the first half, but the match ended 1-1 after extra time. The Dutch completely lost their nerve in the shoot-out, missing three of their first four attempts to make a hasty exit.
England, of course, are famously bad, having lost all three of their shoot-outs at the hands of Germany (1990), Argentina (1998) and Portugal (2006). They have also had three other penalty heartbreaks in European Championships - in 1996, 2004 and 2012.
The use of penalty kicks to decide a tied match was first introduced in 1982 by Fifa. Since the first, in the 1982 semi final between Germany and France, there have been 23 games decided by shoot-out.
A cruel twist is that often the most influential players, the marquee names, are the ones that end up having memorable misses.
Think of Socrates and Michel Platini in 1982 or Roberto Donadoni and Chris Waddle in 1990. Then there was Roberto Baggio and Franco Baresi in 1994, and Ronald De Boer in 1998. Or what about Steven Gerrard and Frank Lampard in 2006, and David Trezeguet in the same tournament.
Most recently, no one contributed more to Costa Rica's memorable run at this World Cup that Bryan Ruiz, but the inspirational captain was the first to miss for Los Ticos against Netherlands last Sunday.
The penalty shootout record of the World Cup semi-finalists
Germany 4-0
5-4 vs France 1982; 4-1 vs Mexico 1986; 4-3 vs England 1990; 4-2 vs Argentina 2006
Brazil 3-1
3-4 vs France 1986; 3-2 vs Italy 1994; 4-2 vs Netherlands 1998; 3-2 vs Chile 2014
Argentina 3-1
3-2 vs Yugoslavia 1990; 4-3 vs Italy 1990; 4-3 vs England 1998; 2-4 vs Germany 2006
Netherlands 1-1
2-4 vs Brazil 1998; 4-3 vs Costa Rica 2014