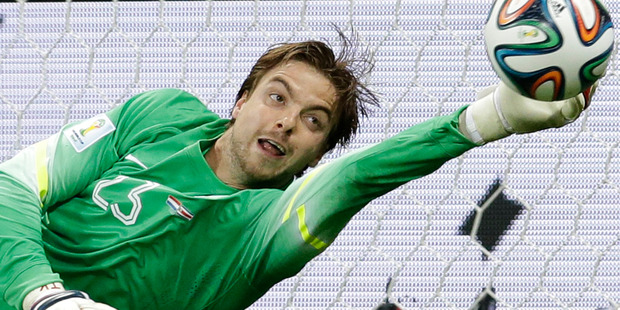 The Dutch completely deserved to win their quarter final over Costa Rica, but their tactical switch of goalkeepers just before the penalty shoot-out was against the spirit of the game.
It was within the rules and may not have been exactly cheating - but it didn't feel right.
Just before the end of extra time, Holland substituted their starting goalkeeper Jasper Cillessen for Tim Krul. Krul is a giant - 1.93m - with a significantly larger reach than Cillessen (1.88m).
The Newcastle United keeper duly made two brilliant saves - and almost had a third, as Holland won the penalty shoot-out to advance to the last four for the second consecutive World Cup.
Some might say it was a gutsy move by Dutch coach Luis Van Gaal, as he put a 'cold' keeper into the cauldron of a penalty shootout. But the problem here is the precedent.
It could lead to a situation where teams carry a goalkeeper who is a shoot-out specialist - why not have a `two metre keeper', and shuffle him on when required. Or someone who is 2.10m - and can almost touch both posts?
That feels more American football than football. It's something Fifa need to look at; maybe only allow replacing of goalkeeper due to (genuine) injury in extra time?
Anyway, that was a minor footnote to a yet another incredibly dramatic game. This World Cup just keeps on giving - and it must now surely be rated as one of the best in the modern era.
The atmosphere inside the Arena Fonte Nova was electric, as 4,000 Costa Rican fans often out sang the masses of Orange clad Dutch fans.
The locals seemed to be siding with the underdog for most of the match, but switched to Holland when extra time came.
"We love Costa Rica," explained one boisterous fan wearing a Flamengo shirt after the match. "But we want Argentina gone as soon as possible, and Holland can do that for us."
After a cagey first half, Holland were primed for their typical second half surge - but the goal never came. Keylor Navas had another inspired game between the posts for Costa Rica, with a couple of incredible point blank saves. He was also saved by the woodwork on no less than three occasions while Robin van Persie couldn't find his usual clinical touch.
Van Gaal - who looks more than American actor Jon Voight every day - looked emotionally worn out by the end of extra time; will he have the energy for the Manchester United job in a few weeks?
Costa Rica defended impressively and seemed to gain some reserves of energy late in extra time, with Marcos Urena creating their best chance of the game.
Once the penalties started the Central Americans looked doomed once captain Bryan Ruiz missed their second attempt. It was asking too much of Navas - the hero against Greece - to do it again and so it proved.
The Dutch march on, and were well worth the victory. It's just a pity the way they did it.