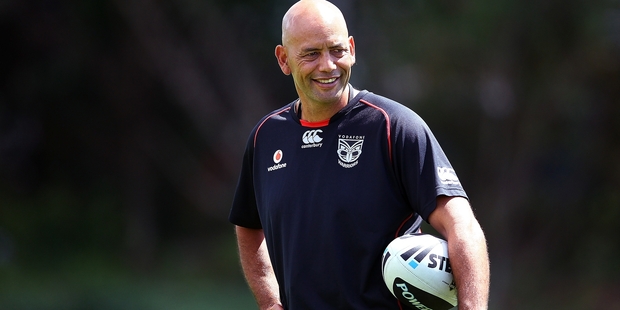 A surprise midweek visit from New Zealand Rugby League football manager Tony Iro has given the Paremoremo Prison league team a boost and helped sharpen their skills ahead of today's clash against the Mt Wellington Warriors.
The Pare Raiders, currently sixth in Auckland's Premier Two competition, are made up of minimum security inmates from Paremoremo's Unit Six.
Iro went there after a request from a family associate involved in volunteer prisoner support work and attended Tuesday's training to put the team through a skills session.
"It was a complete surprise for the boys. They didn't even know he was coming, so they were very honoured," Raiders team manager and prison groundsman Tom Meyer says.
"He explained the basics of rugby league in a simple manner, which they all took on board, and they didn't stop talking about it until after he went. They can't wait to try what he showed them on game day."
Iro, who coached the Warriors briefly in 2012 after previously acting as assistant to Ivan Cleary and Brian McClennan as well as Stephen Kearney's right-hand man with the Kiwis, insists he wasn't there to impart some grand message or life lesson to the inmates, but simply to help foster their love of rugby league and provide them with a fun and positive sporting experience.
"There was no sort of holistic message. They get a couple of hours out on the park a couple of times a week before they play and so I just basically added a little bit of coaching expertise," he says.
"I wasn't soft on them. I said, 'to improve at anything, you've got to work hard at it'. Anything that can be positive in terms of an outlet for them, and maybe a few lessons that you can learn from sport, it's all positive for me. It was really good seeing the enjoyment they get out of it and just that outlet to play a bit of sport."
The Raiders might lack the resources and facilities of other clubs, and are required to play all their games at home on a fenced-off field within the prison grounds, but they make the most of what they have.
"The boys are as fit as they've ever been this year," Meyer says. "They haven't got much to train with. They have to run down the road a little bit. I usually park my ute down the road and they have to push it up the hill."
Iro was taken by the group's enthusiasm to learn and willingness to work hard, and put them through some basic drills which covered tackling techniques and defensive structures.
"They were really focused. They wanted to get stuck in and learn something. As I said to them, this is stuff that every rugby league side is working on, whether you're five or in the NRL. They were really responsive to that. I was only going to be there an hour but stayed there for two. They didn't want to get off the park. There were some bloody good footballers there, actually."
Losing players once they are released from prison is a hurdle the Raiders are forced to overcome every season, but Meyer hopes their experiences within the team environment encourage them to maintain sporting involvement once they're on the outside.
"We can always look around other jails and see who is minimum and who wishes to participate in the league team," he says. "We can look at transferring them back up here to play for us. There are a few players there with great potential.
"We've got one guy getting out shortly and he should be an NRL player, he's brilliant. If he could play for Mt Albert, that would be his dream. We try to help them once they get out. The plan is to actually get them away from the troubled areas and make a new start."
The Raiders players also take inspiration from the redemptive story of former inmate-turned Warriors prop, Suaia Matagi, who was a guest speaker at their team prizegiving last year. Meyer is adamant efforts made by league identities to get involved helps in their rehabilitation and lets the inmates know they are not forgotten by society.
"It makes a difference that someone like him [Iro] would take time out to spend a bit of time with them," he says. "Because they've been tied up with gangs and that sort of thing they never thought about the positive sides of sport and getting that team morale, working together as a team. That's what Tony showed them - to go into tackles in pairs, not just one, and talking to each other, working together and communicating. That's what rugby league is all about."