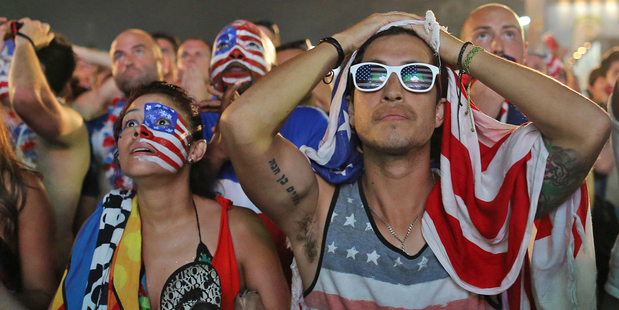 The United States already dominate some of the world's biggest team sports - could football be next?
In the wake of their performances at this World Cup, one Brazilian columnist has already predicted that they could make the final by 2026.
It's not as far fetched as it sounds.
In many ways, the USA have been the most impressive nation at this World Cup so far - bar none.
In terms of collective effort, team work, spirit, belief and old fashioned guts, Juergen Klinsmann's team topped them all.
Their talents, when measured on an individual basis, were modest but they epitomized all they is great about a true team. They worked for each other and never gave up, fighting until the final whistle. And remember they were without the talents of Jozy Altidore (injured) and Landon Donovan (controversially excluded by Klinnsmann).
Look at who they faced. Ghana, Portugal and tournament pacesetters Germany and Belgium, and, they lost nothing in comparsion in any match. It was also no coincidence that all of their games were brilliant spectacles, and the clash with Belgium will be remembered for a long time.
They faced an unprecedented onslaught against the Red Devils but refused to lie down, and were a whisker away from getting an equaliser after being 0-2 down in extra time.
The USA even had the audacity to come up with one of the best free kick moves in this tournament so far - probably the best set move since Argentina's against England in 1998.
And their travelling army of fans have lapped it up. The USA have drawn more supporters to Brazil than any other nation and they have certainly made their presence felt. The atmosphere inside the Arena Fonte Nova in Salvador on Tuesday was electric, as the American supporters sang, cheered and chanted for almost the entire two hours.
"Of course we love our own sports but it's fun to take on the world," one fan from Kansas told the New Zealand Herald. "You realise how big it is when you come to a World Cup."
Thank goodness the Americans only started taking soccer seriously in the last 20 years or so. With their resources, sports science know how and general aptitude for sport, one senses they could be a big threat in the coming years.
By Michael Burgess in Brazil