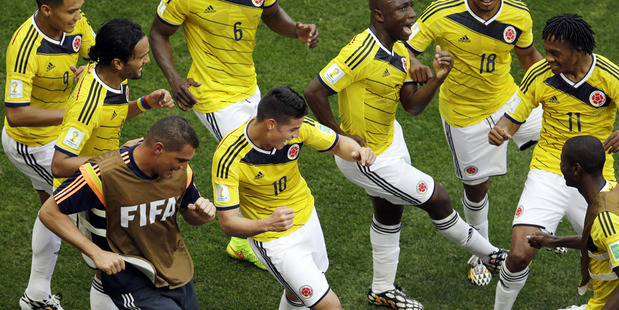 Our football writers add their thoughts and predictions ahead of the World Cup quarter-finals.
France v Germany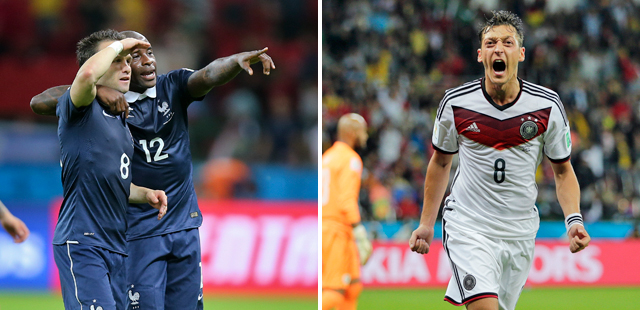 Saturday 4am, Rio. TAB odds - Germany $2.40, France $2.85, Draw (after normal time) $3.20
Kris Shannon: Two European powerhouses with multiple World Cups to their name. The two best squads in the tournament. Too close to call. Neither side were particularly impressive in sneaking past the 'Gerias in the round-of-16 so I'm leaning towards Germany, a nation that has reached the final four at 12 of the 17 World Cups in which they've participated, and a nation that has won all four penalty shootouts they've faced. Prediction: 1-1 (Germany 4-3 on penalties).
Steven Holloway: When France smacked five goals past Switzerland in the group stages they looked devastatingly good. So good that in 90 minutes I completely forgot about the whole 2010 debacle, and slid them into 'the contenders' category. Meanwhile Germany were so average against Algeria that I had doubts they would even make it this far. Germany look unbalanced and unsure and this French side will expose any weaknesses. Prediction: France 2-1 (AET).
Daniel Richardson: Germany nearly stumbled against Algeria in the last round but the mercurial French are a different beast. Germany will kick into gear here. Prediction: Germany 1-0.
Cameron McMillan: The last time these big European rivals, who have four World Cup titles between them, met in a World Cup was 1986 - yes the wall was still standing and Paul Pogba was nine years away from entering this world. Their last encounter on the big stage - West Germany beat France 2-0 in the semifinals before falling to Argentina. Germany's veteran striker Miroslav Klose, eight at the time, is probably the only player in either side who could remember that game. Same result this time, with Klose netting one for good measure. Prediction: Germany 2-0.
Brazil v Colombia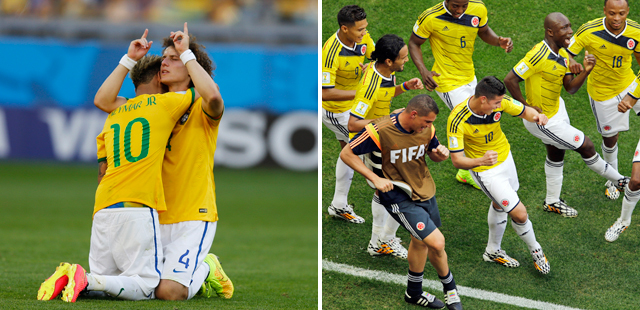 Saturday 8am, Fortaleza. Tab odds - Brazil $1.80, Colombia $4.20, Draw $3.50
Shannon: Upset alert! Brazil came within the width of the bar from being eliminated by Chile in the last round; I have a feeling their luck will run out against a second straight South American opponent. Colombia have been among the tournament's best teams going forward, currently sitting second with 11 goals from four games, and their fire power should prove too much for a Brazilian defence that's light on defenders. Prediction: Colombia 2-1
Holloway: Make no mistake about it, Colombia have been excellent at this World Cup and Brazil have been mediocre. But that doesn't mean Colombia will win. In fact, Brazil's stuttering start may prove the catalyst to really inspire a top performance. The comfortable home climate, the vivacious home support and a smattering of World Class players should be enough to get Brazil home against the tournament's top performers. Prediction: Brazil 3-1.
Richardson: Colombia swept through Group C and looked pretty sharp in doing so. They've got arguably the new big star-in-waiting in James Rodriguez, who is leading the golden boot-standings with five goals, and they can upset the apple cart here. Prediction: Colombia 2-1.
McMillan: Neymar vs James! This is where the Colombian run comes to an end. Yes they have looked good going forward but we're yet to really see their defence tested. Brazil haven't been the greatest at the back either which means this game won't be light on goals. Home advantage will mean even more to Brazil in these tighter games. Prediction: Brazil 3-2 (AET).
Argentina v Belgium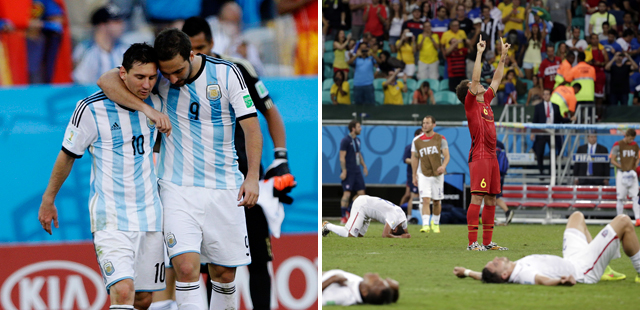 Sunday 4am, Brasilia - TAB odds - Argentina $2.10, Belgium $3.35, Draw $3.25
Shannon: Both sides required extra time to reach the quarter-finals so why not serve up another dose? While a combination of Vincent Kompany and Thibaut Courtois could shut down Leo Messi for the first 90 minutes, expect the little maestro to thrive most when opponents' bodies begin to tire. After all, in regular time against Switzerland, Messi had covered less distance than anyone before breaking free to lay on the 118th-minute winner. Prediction: Argentina 2-1 (AET).
Holloway: Are Belgium good? Four wins from four games suggests yes, but their performances in those games suggests no. They set the bar low with an ugly 1-0 win over Russia and have progressively got a tiny bit better match by match. But to get past Argentina they will need to significantly raise that bar and I just can't see it happening. Argentina are genuine title contenders and with the help of their get-out-of-jail-free card in Lionel Messi, will prove too strong. Prediction: Argentina 3-2.
Richardson: Here's the key stats: Lionel Messi has played four games at this tournament, scored four of Argentina's six goals and has four man of the match awards. If Belgium can shut the Barcelona wizard down then they will have a good chance of taking this upset. Prediction: Belgium 2-1.
McMillan: Don't sleep on Messi's Argentina - they just beat the number six team in the world (well according to the FIFA Coca Cola World rankings that's where Switzerland are). These two teams forged out four pretty gritty victories each in their way to the quarter-finals and are yet to really impress but World Cup semifinals without Ronaldo or Messi? Surely FIFA won't let that happen, even more so if Neymar and Brazil lose 24 hour earlier.Prediction: Argentina 2-0 (Blatter 33, 81).
Netherlands v Costa Rica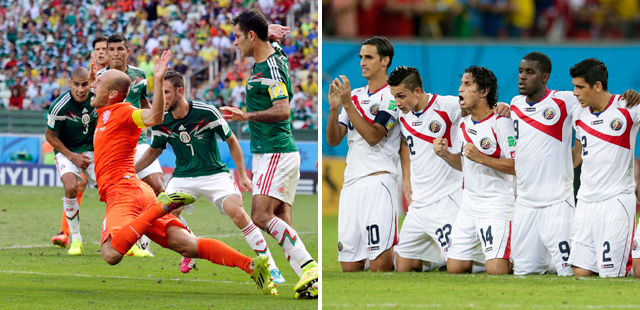 Sunday 8am, Salvador. TAB odds - Netherlands $1.45, Costa Rica $7, Draw $4
Shannon: This appears on paper to be the only mis-match in the quarter-finals: a destructive Dutch attack against a team that needed a shootout to sneak past Greece. And, in practice, there is unlikely to be a fairy-tale finish for Costa Rica, with the class of Robben and Robin set to see the Netherlands advance. Unless Keylor Navas, already one of the best goalkeepers in the tournament, pulls a Tim Howard. Prediction: Netherlands 2-0.
Holloway: If Costa Rica make the semi-finals it will arguably be the greatest World Cup fairy tale of all time. Problem is, they will have to find a way to stop Arjen Robben. So far, Spain, Chile, Australia and Mexico have failed to do that and it's hard to see the Costa Rican defence being any better. Prediction: Netherlands 2 Costa Rica 0
Richardson: The Netherlands have been a bit leaky defensively during the World Cup but they should have too much strike power for Costa Rica. Going to penalties in their round of 16 game will also have been draining and Robin van Persie is due another goal. Prediction: Netherlands 3-1.
McMillan: The Dutch are destined to finish runners-up for the second straight World Cup for the second time (1974-78). Costa Rica, a team ranked below Scotland, were destined to finish last in their group. The high heat in their second round win took a lot out of the Dutch and they may be running out of steam after such a great start to the tournament. Not expecting a walkover but they'll advance. Prediction: Netherlands 1-0.
- Photos - AP