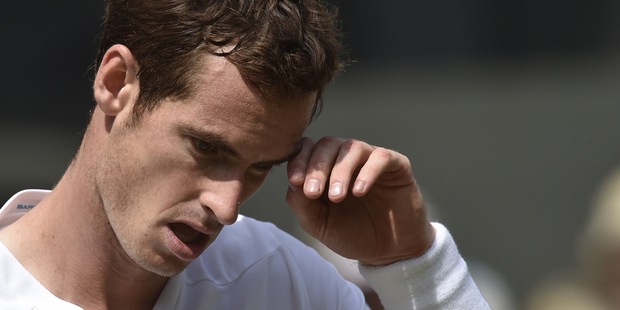 Grigor Dimitrov felt it might not be Andy Murray's day even before a ball had been struck in their quarter-final on Centre Court yesterday.
"As soon as we started warming up I sensed his game was not at his highest level," the Bulgarian said after completing a crushing 6-1, 7-6, 6-2 victory over the Wimbledon champion.
"I've practised quite a few times with him. I know how he's striking the ball when he's at his best. I know how he's playing when he's not at his best. It was just a feeling that I had."
Dimitrov's pre-match impression was quickly confirmed. Murray has a remarkable record of consistency at Wimbledon, but this will go down as one of his worst performances at the All England Club. Although Dimitrov is one of the game's most exciting young talents, this was a match decided more by the loser's mistakes than by the winner's excellence.
Murray had been in peak form as he reached the last eight without dropping a set, but from the start of his seventh successive Wimbledon quarter-final he looked flat.
The 27-year-old Scot is one of the game's finest athletes, but at times his movement was lethargic in comparison with what we normally expect from him. Failing frequently to get into position to play his shots, Murray made 37 unforced errors.
Dimitrov repeatedly punished Murray's weak second serves, launching himself into some huge returns. The world No 13 played a smart game, moving into the net when Murray gave him short balls to attack. The 23-year-old Bulgarian hit some beautifully judged volleys and flew around the court with impressive speed, even managing to win one point after falling over on the baseline.
"He was the better player from start to finish," Murray admitted afterwards. "I made many unforced errors and then started going for too much and taking chances that weren't really there. I think I hit maybe one backhand winner the entire match, which isn't normally what I do, especially on this surface."
He added: "The frustrating thing for me was the amount of mistakes I made today. Because even when I wanted to get into longer rallies I was missing shots. I was unable to make him work as hard as I needed to get back into the match. That's what I was trying to do, but I couldn't seem to get my legs in the right place to hit the right shots all the time."
Murray had a break point in the opening game, but was soon in trouble. Successive forehand and backhand errors gave Dimitrov his first break of serve in the fourth game and he went 5-1 up after breaking again, this time to love. Dimitrov took the first set in emphatic fashion with a smash after just 25 minutes.
At the start of the match the Centre Court crowd had been in buoyant mood on a glorious afternoon, but a stadium which has rung to the sound of so many Murray cheers over the years was reduced to lengthy periods of near-silence, punctuated only by despairing sighs, as the Scot's mistakes multiplied.
Murray was broken again in the seventh game of the second set after two woeful backhands. The Scot's spirits lifted briefly when he broke back for 4-4, but he had to save two break points three games later and was eventually outplayed in the tie-break, which Dimitrov took after winning the last three points.
When Murray served at 2-3 in the third set he was broken after losing three poor points in a row as he missed a forehand, put a backhand wide and double-faulted.
When he served again at 2-5 Murray handed Dimitrov two match points with another double fault. He saved the first with a forehand winner down the line but netted a forehand on the second to give Dimitrov victory after just over two hours.
It had been a miserable afternoon for Murray, but he still had the presence of mind to remind his opponent to bow to the Royal Box on the way out of the stadium.
A courtside photographer said that he had heard Murray complaining to his entourage during the second set about something that had happened "five minutes before the match", but Murray insisted afterwards that he had felt good going into the contest.
"Right at the beginning of the match I had break points in the first game," he said. "But my start to the match was poor and I think that gave him confidence. I should have done a better job at the beginning of the match of making it tougher for him and I didn't manage to do that.
"Also, when I got back into the second set, at the end of the set, that was my opportunity there. He'd been up a break in the set and I'd come back. The momentum was starting to shift a little bit, but I couldn't quite do it."
He added: "The fire was still there. My game was just not where I would have liked it to be. I hit the ball well in practice the last day or two. I hit the ball fine in the warm-up this morning. That wasn't a problem. I just played badly today. I'm disappointed with that.
"Obviously I have to have a think about maybe why that was. But often I think people over-analyse things and look at things in too much detail. I just didn't play well today and he played much better than me from the beginning to the end. That's not going to add up to a good day at the office."
- THE INDEPENDENT