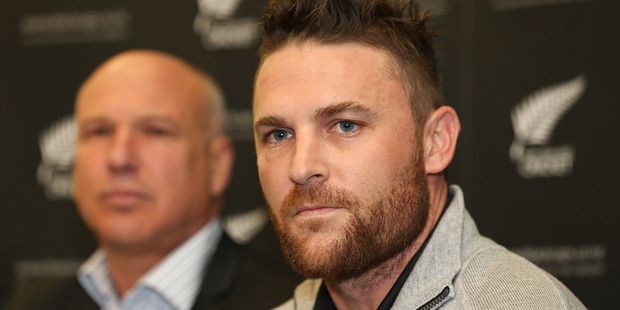 As Brendon McCullum ran through his series-winning New Zealand team yesterday he paused to offer heartfelt thanks to his fast-medium spearheads.
Tim Southee and Trent Boult have proved worthy of the accolades and are fit to rank among the best new ball pairs in the world right now.
"I wouldn't change them for anyone in the world," McCullum said.
"They've done it for us over the last 18-24 months in conditions home and away. They are two world class bowlers and bowl brilliantly together."
Others have come (notably Neil Wagner) and gone (Doug Bracewell the highest profile casualty) while the Northern Districts mates have been anchoring the seam department.
Each have had special matches, special days when they've had the ball talking.
Boult's 10-wicket demolition against the West Indies at Wellington last December was perhaps the best example of his skills.
He had the ball wobbling about to a degree the tourists would not have seen for many a day, if ever.
The two-year numbers kick in from just after the point Southee won back his test place in the Caribbean in August 2012.
One test later he had seven wickets in India's first innings at Bangalore, but without question his haul of 10 for 108 at Lord's last year would take pride of place.
Only one other New Zealander has taken 10 in a test at the home of cricket - Dion Nash in 1994, with his 11 for 169.
Southee and Boult now sit inside the world's top 10-ranked bowlers, according to the ICC.
Southee is sixth and Boult up two spots to ninth on a list headed by South African speedster Dale Steyn.
Among the New Zealand batsmen, Kane Williamson is up five places to No 14, five behind Ross Taylor. South Africa's AB de Villiers tops the list.
Double act
Test bowling overseas in the last two years
Tim Southee 9 tests, 46 wickets at 16.6, best innings 7-64 v India, Bangalore; best match 10-108 v England, Lord's
Trent Boult 14 tests, 42 wickets at 31.6, best innings 6-40 v West Indies, Wellington; best match 10-80, v West Indies, Wellington
Overall:
Southee 34 tests, 123 wickets at 29.83
Boult 25 tests, 91 wickets at 27.45