Tennis has a new star as 19-year-old Nick Kyrgios humbles world No1 Rafael Nadal at Wimbledo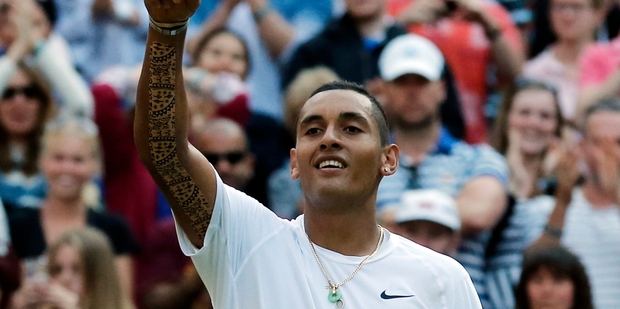 It began with a thunderbolt of an ace, and it ended with another.
Nick Kyrgios, the 19-year-old Australian tipped by Rod Laver to take over from "the big four" in men's tennis, achieved one of the most dramatic Wimbledon upsets of recent times in toppling world No1 Rafael Nadal in four sets of staggering poise and merciless power.
The wildcard has been touted for some time as a talent to watch, but this 7-6, 5-7, 7-6, 6-3 triumph over the 14-time Grand Slam champion announced his arrival on the global stage in a most emphatic way.
So fearless was Kyrgios at the pivotal moments of this riveting confrontation that one wondered if the teenager even had a pulse.
Supported by a handful of Australian fanatics on Centre Court in their green-and-gold garb, Kyrgios did not once look overawed in closing out this astonishing win, even performing a lithe dance routine - one that he dubbed the "juicy wiggle" - for the crowd in his moment of glory.
The men's game has unquestionably found its next phenomenon, and arguably its first for seven years since Andy Murray.
"I was in a bit of a zone, I didn't notice the crowd at all," Kyrgios reflected. "I played extraordinary tennis. "You've got to believe you can win from the start, and I did."
There is an uncoachable nervelessness about Kyrgios, an impulse to land a rapier forehand plumb on the line when conventional wisdom might suggest a safer approach.
It paid to remember that he had needed to save nine match points in his second-round match against Richard Gasquet just to reach this point, as it is that type of defiance that informs the manner in which he plays. No moment illustrated it better than the absurdly audacious between-the-legs shot he executed, for a winner, midway through the second set. We have seen nothing like this since Boris Becker's dive-volleys in 1985, en route to the title.
Kyrgios is the youngest debutant to advance to the Wimbledon quarter-finals for a decade. Ranked 144th in the world, he is also the first player from outside the top 100 to vanquish a reigning No1 since 1992.
All gangly limbs and youthful exuberance, Kyrgios performed yesterday as if to the manner born. Possessed of lissom movement and an easy, languid power, he looked wholly unencumbered by the pressures of his Centre Court baptism, dialling up the aggression from the outset. Nadal could not even place a racket on the Kyrgios serve as the Australian opened with a 204km/h ace, straight down the middle.
Normally it would be the Mallorcan's style to engage his adversary in energy-draining rallies, but the self-belief radiating from the 19-year-old across the net was plainly disrupting his rhythm.
Nadal appeared to recognise that he was staring at a premature departure for the third year in succession, despite having not dropped serve in the entire match.
On the first of his three match points, Kyrgios unleashed his 37th and final ace. It seemed somehow apt he should conclude with yet another serve of unreturnable brilliance, as the victory jig began.
A star has truly been born.

Nick Kyrgios' historic fourth round victory
• Wildcard Kyrgios is the first man to reach the quarter-finals on Wimbledon debut since Florian Mayer in 2004.
• At 19 years 70 days, he is the youngest player to reach the quarter-finals at a Grand Slam since compatriot Bernard Tomic (18 years 255 days) at 2011 Wimbledon.
• Kyrgios is the lowest-ranked player (144) to reach the quarter-finals since No158 Tomic in 2011
• Kyrgios is the first teenager to defeat a world No1 at a Grand Slam since Nadal achieved the feat when he defeated Roger Federer at 2005 Roland Garros aged 19 years 2 days.
• He is the first player ranked outside the Top 100 to defeat a world No1 at a Grand Slam since No193 Andrei Olhovskiy defeated Jim Courier in the third round at 1992 Wimbledon.
• Kyrgios is the lowest-ranked player to defeat Nadal since No690 Joachim Johansson at 2006 Stockholm. Kyrgios is the lowest-ranked player Nadal has lost to at a Grand Slam.
• Kyrgios is only the third Aussie player to defeat Nadal after Chris Guccione (retired) and Lleyton Hewitt.