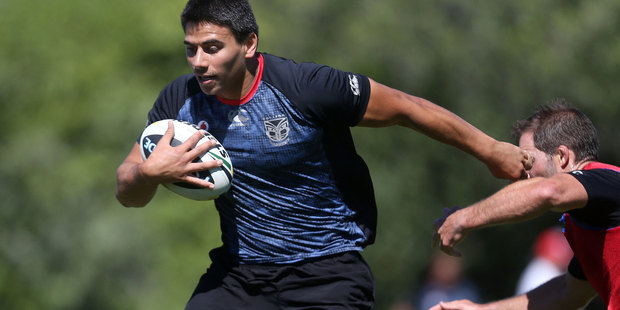 Warriors utility Ben Henry is undergoing round the clock treatment on his injured left knee in an effort to stay on the park for the remainder of the season.
The 22-year-old "felt a pinch" during last Sunday's win over Penrith and aggravated the knee injury which saw him on the sidelines for four weeks earlier in the year.
Cartilage irritation and inflammation mean he is having to apply ice and compression to the injury almost 24-7 to aid his recovery and get him ready for the next game against the Parramatta Eels on July 12.
"It's just a bit sore, that's all. I just felt a little pinch during the game. It's getting better, I'm icing it at the moment," Henry said.
"We've got this game-ready device that's pretty good. I can leave it on overnight and there's a piece of it that wraps over my knee and it will compress it and put ice on it at 20 minute intervals which is really good. It helps save my knee especially before the game. I'm on that probably up to the game and then run out."
Minor knee surgery is required to clean up the problem but would spell the end of Henry's season, something he is doing his best to avoid as the Warriors enter the last 10 rounds of the competition.
"I'm just tossing up whether to do it because it is a critical part in our season especially with ourselves just sliding into the top eight and things are going well. I just have to manage it, that's all. I'm trying to save the operation until the end of the year just to have it cleaned out. If I can manage it and still get 60-70 odd minutes out of it then I'm happy."
Henry, in his third season of NRL, is fast becoming accustomed to playing with injury and is determined to play on after ruptured ACL ligaments ruined his 2013 year. Seeing what some of his more senior teammates endure week in, week out has given him further confidence that he can work through the pain.
"Now I know what some of the senior players go through like Sam Rapira and Nathan Friend. They're always strapped up to the hilt and they're never 100% when it comes to a game but they still stick it out and get through. I'm kind of taking my cue off them, if they can get through, why not me?"
Coach Andrew McFadden has confidence Henry can manage the injury and continue to play a role in the side.
"He's a very strong, mentally tough kid and I know he'll get through it. We'll see what we can really get out of him for the rest of the year but I think the operation, if it does take place, will be only minor," he said.
Meanwhile, the Warriors are preparing to welcome back forward Ben Matulino from knee surgery for their clash with the Eels, and McFadden expects fellow forward Sione Lousi, also recovering from a knee injury, won't be too far behind him.
"We've certainly missed his [Matulino] strike and some of his offloading ability and he'll be very handy when he gets back. He should be ready for Parramatta.
"Sione's looking good, actually. He ran really well today. Again I'm not sure whether he'll be around for Parramatta but he will be very close."