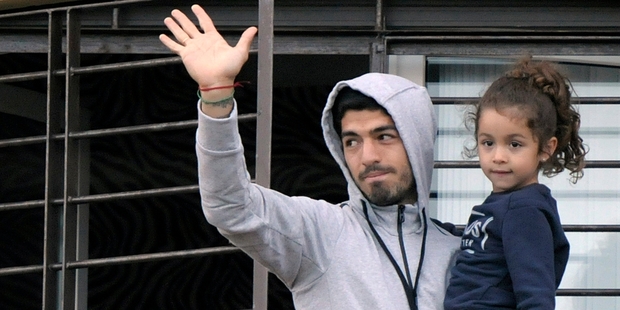 Soundbite or not, Luis Suarez has now apologised to the "entire football family" for that bite but he's the one missing out. Suarez is the one whose folly brought his deserved eviction from the greatest party the entire football family has ever seen.
Game after game, goal after goal, this World Cup has been truly special, comfortably the most magnificent of the seven this observer has attended.
Bar-room disputes could break out over which has been the best game. Spain 1 Holland 5? Spain 0 Chile 2? Germany 2 Ghana 2? USA 2 Portugal 2? Nigeria 2 Argentina 3? Colombia 2 Uruguay 0? These are scorelines so eye-catching they could run as headlines.
Arguments would be long and loud over establishing which has been the most thrilling goal of the tournament so far. Eduardo Vargas' wonderful vision and dexterity against Spain? Jermaine Jones' thunderbolt against Portugal?
Tim Cahill's left-foot volley against Holland? Lionel Messi's late, superbly struck winner against Iran? Robin van Persie's flying header against Spain? Fernandinho's Futsal climax to an incisive Brazilian attack against Cameroon? James Rodriguez's breathtaking strike against Uruguay?
Any of Rodriguez's gems for that matter.
It is not simply the quality, but the quantity. The total achieved in South Africa four years ago, 145, was equalled with 12 games to play and was passed when Paul Pogba headed in for France against Nigeria yesterday.
"Hold on" was the immediate reaction when it was claimed that Rodriguez's goal against Uruguay had already tied up the goal of the World Cup competition; there could be even better ones. This is the tournament that keeps on giving, keeps on entertaining.
Indifferent defending helps. Many defenders are clearly wary of tackling because of the tweaks in the interpretations of the laws. For such an experienced international centre-half, Mexico's Rafael Marquez was naive to challenge Arjen Robben in the manner he did during their round of 16 match.
In the modern game, the referee was always going to award the penalty because of the contact, regardless of any distaste for the flowing Dutchman's theatrical reaction.
How many great, or potentially great centre-halves, are there out here?
Few. Rafael Varane of France continues to impress but this has not been a tournament celebrating the obdurate. It is the world of the predators, players assisted by the Brazuca being a truer ball compared with the awful Jabulani in South Africa. Wonderful players have delivered in Brazil from Robben to Messi to Rodriguez. Alexis Sanchez has returned home but the Chilean forward was a joy to watch. There seems an undeniable sense of their understanding that a World Cup in Brazil has to be about expressing the joys of football.
This is a competition of stars but no star team (partly because of the defensive issue). Brazil and Argentina have problems at the back. Holland are very good but not truly dominant. A case can arguably be made for France, who have a strong spine, a strong ethos and a sensible coach in Didier Deschamps.
Off the field, the party goes on and on. Mexico will be missed not only for their football but also the charismatic nature of those who follow them.
Somewhere in Uruguay, Suarez will be watching, knowing he is missing something very special.