After the tough times, New Zealand's test cricketers have rediscovered their confidence and honed their skills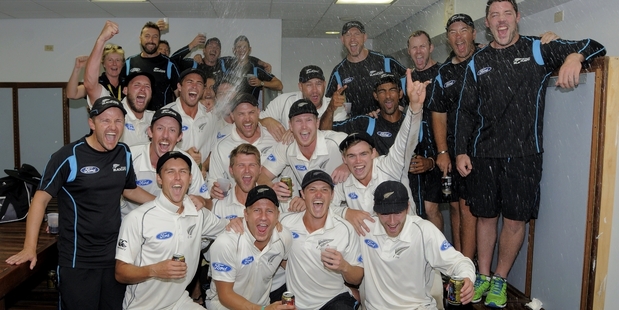 It has been easy enough to pick holes in New Zealand's test cricket down through the years. During the lean years, the team have given the critics plenty of ammunition.
So, as they celebrate a notable achievement in the Caribbean, it is time to acknowledge the efforts of a team who have discovered winning ways.
It took a pile of hard work and resolve to stick at the challenge when times were bleak last year.
Brendon McCullum's team have won five of their last seven tests.
This follows a 10-test run through last year in which they did not win a single test, losing four, drawing six.
The recipe for this success can be boiled down to a handful of key ingredients.
Above all, the important words are self belief. This is a team who have learnt how to extricate themselves from tight spots, and to apply themselves when there's the sniff of a victory.
In the third test, things could have gone awry. The West Indies, buoyed by a convincing second test win, reached a 24-run lead on the first innings then had the visitors effectively 44 for three.
New Zealand, chiefly through player of the series Kane Williamson, were able to work the situation around. That takes strength of purpose and clear thought processes.
Yesterday, New Zealand needed to take 10 West Indian wickets, having declared at their overnight 331 for seven, setting a winning target of 308.
Trent Boult dug out a couple early and for the rest of the day the bowlers chipped away, stuck to the job and, with 13.4 overs left, the lively left armer completed the job.
They knew the West Indies were vulnerable if placed in a squeeze - and were good enough to apply it.
Williamson is in the pink of form and fast challenging Ross Taylor as the team's best batsman. Certainly as a No 3-4 double, there is much to admire.
The new ball bowlers, Tim Southee and Trent Boult shared 20 wickets and are at least on a par with any other test combination.
They have a blossoming wicketkeeper in BJ Watling, whose game continues to flourish. New men Jimmy Neesham and Mark Craig are players who have come in and displayed strong minds and confidence in their abilities.
New Zealand played with skill and took the chances they created in the first and third tests.
Certainly there is a problem at the top of the batting order. Change is needed. The skipper didn't have a memorable series with the bat either.
But that's for sorting out before the team go to the United Arab Emirates to play Pakistan this year.
For now best enjoy this. Difficult times will come again - the vicissitudes of sport will see to that.
Path to success
• Yesterday's win sealed NZ's first overseas series victory against a top-eight nation since beating the same opponents in 2002.
• It was the third time NZ have won three successive series - after 1985-86 (Australia twice, and England) and 2005-06 (Sri Lanka, Zimbabwe and the West Indies).
• NZ have now won six series away from home - excluding Zimbabwe and Bangladesh - since their first tour in 1931 to England.