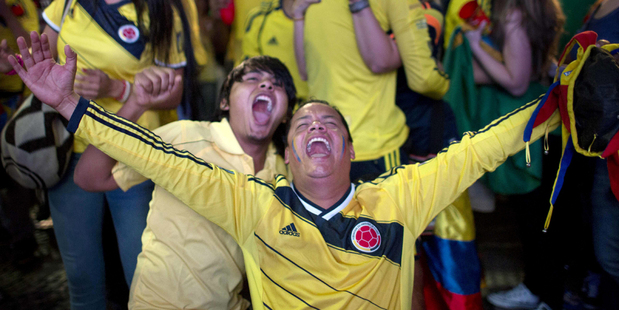 For years I considered the Olympics to be the ultimate gathering of the international community with athletes from all corners of the world come togeather to compete.
The past few weeks however, I have found that the Fifa World Cup has taken the global village sentiment to a whole new level.
People have gathered from Pakistan to Liechtenstein, from metropolises of New York and Tokyo to the backblocks of Romania and Guatamala, and of course, New Zealand.
As mentioned in earlier reports, the All Whites may not be here, but Kiwis keep popping up all over Brazil, and so do people with links to New Zealand.
Writing this story on the long bus haul to Sao Paulo, Agustin from Ecuador next tells me all about his Maori mate and does a remarkably impressive rendition of Ka Mate.
And on my way to the Maracana Stadium, a few days back, I was stunned to see a genuine Crusaders jersey among all the football strips. It belongs to Ben, a Kiwi expat in Rio who just had enough time to explain that he doesn't like the current red-and-black design before rushing off to a work meeting.
On and off the pitch, the borders are blurring with many people not necessarily supporting of playing for the country of birth.
One Japanese family here epitomised the increasing globalisation, cheering on the Samurai in a bar in Rio de Janeiro but also chatting in a strong, and slightly annoying Californian accent. "Supporting the US? Hell no, we live there but we support Ecuador where we were born."
I didn't see that one coming.
The fans have become increasingly mobile and so have the players.
In this World Cup, about one third of the 736 selected players have a double nationality, and some even have five countries to choose from.
In Wednesday's match in Sao Paulo, Switzerland have 12 different nationalities in its ranks, while 14 of Argentina's squad could also play for Italy.
Many teams like Algeria rely on their imports and have successfully lobbied to have the rules relaxed so that players can play youth internationals and friendlies without committing themselves. As a result three-quarter of their squad was born in France.
Unlike rugby though, once you have played one competitive international the player is tied to that country,
In one game this World Cup, Ghana star Kevin Prince Boateng played directly opposite his little brother Jerome who represented Germany, the Boatengs' country of birth.
The ultimate example that national allegiances have faded must be Atletico Madrid star Diego Costa. The Brazilian-born striker last year played two friendlies for A Selecao but at the last minute changed his loyalties to Spain.
Often these choices are driven by the club, because Atletico who can now field another non-European player.
Commercial interests aside, you have to wonder how Costa will feel after Spain's disastrous tournament and especially if Brazil succeed to win their sixth title.