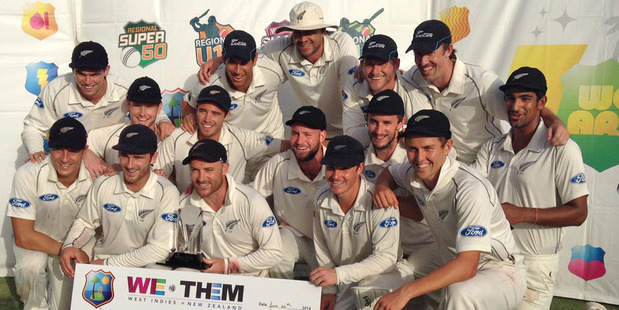 Now it's three. New Zealand's thrilling 53-run win over the West Indies in Barbados today made it three successive test series victories over top eight nations.
Beating the Windies and India at home was a fine achievement; following that with the first victory over a major nation away from home for 12 years adds to the belief this New Zealand side are becoming a significant player in the world game.
It is the third time New Zealand have won three series on the bounce.
It happened in 1985-86, when the Richard Hadlee-inspired New Zealanders beat Australia away, then home, then headed to England and won a rubber at the home of the game for the first time.
In the 2005-06 season, New Zealand beat Sri Lanka at home, Zimbabwe away and the West Indies at home.
Having walloped the West Indies by 186 runs at Jamaica, they were then themselves turned over by 10 wickets in Trinidad.
Considerable fight was required to get back on the bike against a team you would have imagined felt it had whatever momentum was on offer.
Instead, New Zealand, having surrendered a 24-run first innings lead, had to work themselves back into a dominant position. Thank batsman of the series Kane Willliamson for that.
His unbeaten 161, his second ton of the rubber, allowed an overnight declaration and the bowlers chipped away through a fascinating final day at Kensington Oval, clinching the win with 13.4 overs left.
Black Caps in the West Indies
1971/72 - Series drawn 0-0 (Five tests)
1984/85 - West Indies 2-0 (Four tests)
1996 - West Indies 1-0 (Two tests)
2002 - New Zealand 1-0 (Two tests)
2012 - West Indies 2-0 (Two tests)
2014 - New Zealand 2-1 (Three tests)
All the bowlers did their bit.
Left armer Trent Boult knocked the top off with two wickets inside the first seven overs then completed the job, having last man Jerome Taylor lbw.
Tim Southee skittled the key attacking threat, Chris Gayle, albeit off an inside edge, then eased out two more wickets in seven balls.
Offspinner Mark Craig's three wickets gave him 12 in his debut series. When he drew veteran lefthander Shiv Chanderpaul down the pitch to have him stumped it was the first time in 266 innings the stubborn Guyanese had been dismissed in that manner.
Bowlers Jason Holder and Shane Shillingford battled for 22 overs to induce a hefty dose of tension in the final session. However when Craig bowled Holder to have the West Indies eight down, it opened a door and the job was done in the next 10 overs.
There are two T20s in Dominica at the weekend to round off the tour.
Remember last year when New Zealand were being pilloried for their listless test performances during that 10-test winless stretch?
Now they have won five of their last seven tests, home and away. They can be immensely proud of that.
Top runscorers in the series
Kane Williamson 413
Tom Latham 288
Jimmy Neesham 278
Kraigg Braithwaite 217
Chris Gayle 208
Top wicket-takers in the series
Kemar Roach 15
Sulieman Benn 14
Mark Craig 12
Tim Southee 11
Jerome Taylor 11