Michael Burgess looks at the five things learned from today's action in Brazil.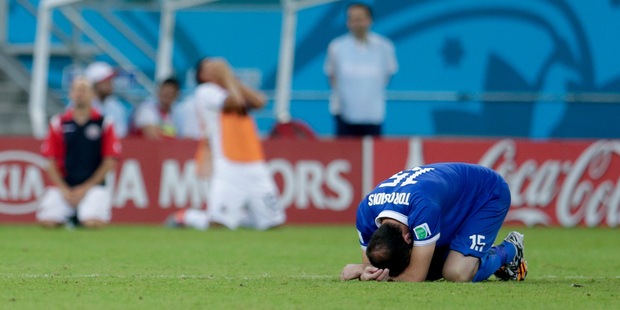 Colombia are the new stars in yellow
There's a team, in a classic yellow shirt, playing fantastic football at this World Cup, with flair, pace and skill, and it's certainly not Brazil. Colombia are the form South American team thus far, despite the loss of key forward Radamel Falcao before the tournament. Las Cafeteros are playing the way Brazil used to; speed all over park, exhibiting decisive skills under pressure.
Their supporters, who have waited two decades to return to the World Cup, have been rewarded with four successive, convincing victories. They could go further, but one senses that Brazil are destined to reach the last four, given how fortune was on their shoulder against Chile.
You can't, at any level, sit on a lead.
Both Mexico and Costa Rica went ahead early in the second half of their matches today and then stopped playing. In Mexico's case it was a fatal mistake; the Dutch poured forward, knowing they were not going to be challenged defensively and were rewarded with two late, late goals.
Costa Rica did have a man dismissed in the 67th minute, but Los Ticos were still far more defensive than they needed to be against a extremely limited, though gutsy, Greek team. Costa Rica got through, but were fortunate their goal keeper pulled off some miraculous saves while the Europeans wasted several great chances, with a total of 24 shots on goal.
A FIFA TV director might be in trouble
Someone at FIFA TV might expect a phone call later today. Continuing his tour around all 12 World Cup venues, FIFA President Sepp Blatter attended today's match in Recife between Costa Rica and Greece.
Despite the exciting finale, it wasn't the most riveting spectacle and at one point the in stadium big screen camera's cut to Blatter looking particularly bored The camera lingered - and lingered - on the downcast Swiss - before Blatter eventually noticed (maybe by picking up the crowd's booing) and adopted a more professional pose.
Greece won't be missed
Usually minnows who upset the odds become crowd favourites at World Cups- but not Greece. While they can be admired for their spirit, their stodgy defensive tactics haven't gone down well here in Brazil. They didn't even try to play against Costa Rica today until they fell behind, and Mexican waves in the stadiums tended to start incredibly early in all of their matches.
The ugly side of their play was also revealed today, when on more than one occasion they tried to speed up a departing Costa Rican player by shoving him forwards as he was walking off the field.
Various radio and television commentators couldn't hide their joy as well, no longer having to enunciate tongue twisters such as Lazaros Christodoulopoulos and Sokratis Papastathopoulos.
Brazil feels the heat
Until yesterday, the home side had been spared any 1pm (local time) kick-offs, when the heat here is at its most oppressive. Yesterday's match was in Belo Horizonte - where the climate is not as extreme as more northern cities but it still felt tropical just after midday.
The home side seemed to suffer in the second half, as their performance went flat while the Chileans came home stronger. Meanwhile, the Brazil team has been slammed in the local media, with 1970's hero Tostao saying the team lacked "tactics and technique" while another prominent commentator felt that's Brazil's play is "going backwards with each match."