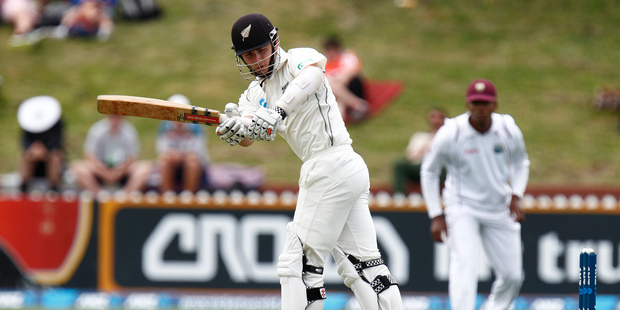 The New Zealand cricket side may be having serious problems finding a successful opening duo but they are lucky their number three is quickly becoming their most reliable asset.
While Brendon McCullum and Ross Taylor were breaking records and getting accolades over the home summer, Kane Williamson was quietly going about amassing an almost equally impressive record.
The 23-year-old has continued his form in the West Indies this morning, with his second century of the series to finish on 153 when rain took players off the field. He became just the fifth New Zealander to score 400 runs in a test series of three games or fewer.
With the New Zealand top order failing on all six occasions in the West Indies - making 52 runs in six partnerships at an average of 8.7 - the pressure has gone on Williamson every time he has come to the crease.
His longest wait before heading out into the middle was just 52 balls as Peter Fulton, Hamish Rutherford and Brendon McCullum all struggled in the top two positions. Tom Latham has been the only opener to find any form in the three test series with back-to-back scores in the 80s and 73 in the first two tests before two failures in Bridgetown. Latham's latest, a duck, saw Williamson again begin his innings in just the third over.
In all but one of his six innings in the Caribbean he has played a major role in getting the New Zealand innings back on track, helping to consolidate his side's efforts at the crease when a quick dismissal could have triggered carnage in the rest of the order.
Williamson steps up for the Black Caps and digs them out of holes by doing the opener's role of taking the shine off the new ball.
His bowling technique may be under scrutiny but there is nothing to fault when he has the bat in hand.
With seven centuries and 14 fifties to his name in 34 test matches, he is now averaging over 40 after passing 150 for the first time in tests.
Just three test players scored more centuries than Williamson before the age of 24 - Don Bradman, Garfield Sobers and Sachin Tendulkar. England captain Alastair Cook also had seven centuries by the age 24, and has since scored 25 for his country.
Already Williamson sits in a share of seven in New Zealand's most test century-makers, joining the likes of Glen Turner, Andrew Jones and Bevan Congdon. Teammate McCullum (87 tests) and Stephen Fleming (111 tests) sit just two centuries ahead of him.
The leader of the list - Martin Crowe with 17 centuries - scored his sixth ton at aged 25 years and five months, meaning Williamson is ahead of schedule to surpass New Zealand's greatest batsman. The question is quickly becoming realistic of whether Williamson could surpass Crowe's record one day.
Hopefully for the Black Caps' sake they'll have sorted out their top order issues, and take away some added pressure on Williamson, long before then.