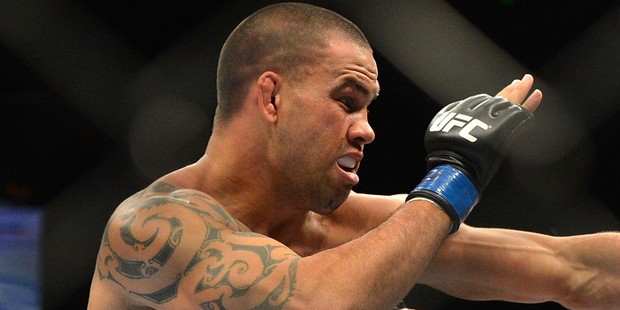 Kiwi James Te Huna's move to middleweight resulted in him being submitted by Nate Marquardt in the first round of the main event of UFC Fight Night 43 at Vector Arena in Auckland tonight.
Te Huna, who decided to move down from light heavyweight after suffering two losses, entered the cage to a rousing rendition of the Ka Mate haka followed by Kiwi hit 'Poi E'.
The Darfield-born 32-year-old took a huge knee early in the first round and Marquardt enjoyed the better of a back-and-forward first frame.
Eventually, Marquardt (33-13-2) was able to lock him up in an armbar and Te Huna, who dropped to 16-8 for his career, was forced to tap.
In the co-main event of the evening, American heavyweight Jared Rosholt (11-1) wrestled his way to an uninspiring unanimous decision victory over 14th-ranked Soa Palelei.
Perth's Palelei (21-4) had never seen a fight go to the judges in his 25-fight MMA career and few will look back on that bout with any fondness.
Auckland-born welterweight Robert Whittaker, who is now based in Sydney, got the main card off to a decent start with a unanimous-decision win over American Mike Rhodes.
Whittaker relied on his accurate striking to earn the victory and he felt at home throughout the fight with chants of "Whittaker, Whittaker" spurring him on as he moved to 13-4 in his MMA career.
"Fighting here in New Zealand made me feel like I was defending the nation," Whittaker said. "I fed off that energy and it definitely motivated me."
There was little time for the cosmopolitan crowd, which included a passionate group of flag-waving Brazilians near the floor seats, to get bored as the fights were staged at a rapid rate during the UFC's first appearance in New Zealand.
During featherweight Charles Oliveira's second-round submission victory over Japan's Hatsu Hioki, a Mexican wave broke out during a break as Oliveira suffered an accidental poke in the eye.
Earlier, Kiwi Dan 'The Hangman' Hooker, had a vocal crowd, featuring Warriors players Manu Vatuvei and Konrad Hurrell plus former All Black Jonah Lomu, on their feet.
The 24-year-old featherweight beat Englishman Ian Entwistle via first-round TKO in the second fight of the night as he moved his career record to 11-4 in his UFC debut.
Entwistle, who dropped to 8-2 with the loss, tried to work foot and leg locks early on against Hooker but the Auckland-raised fighter found his range, delivered a flurry of elbows and earned the stoppage victory.
"Fighting here in Auckland is just a dream come true," Hooker said. "The crowd went off and I felt all of their support."
Hooker's victory followed on from an entertaining light heavyweight fight to start the night where New York's Gian Villante edged fellow American Sean O'Connell in a split decision.
In other preliminary card results, Melbourne welterweight Vik Grujic beat Perth's Chris Indich via first-round TKO.
Sydney flyweight Richie Vaculik toppled Filipino fighter Roldan Sangcha-an by unanimous decision, while lightweight Jake Matthews submitted American Dashon Johnson in the third round.
Melbourne's Matthews is the youngest competitor on the UFC roster at only 19 but he looked dominant throughout the bout before he connected a triangle choke to move his career record to 8-0 in his UFC debut.
"Being the youngest fighter in the UFC, I feel this is a big statement and this is just the start," Matthews said.
- APNZ