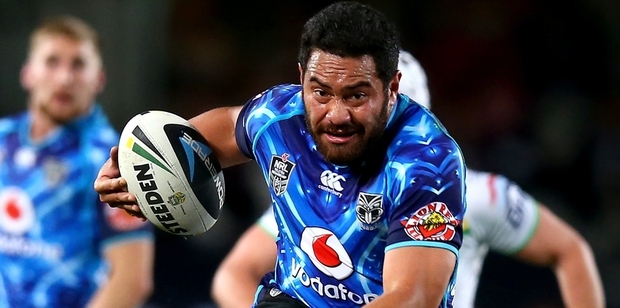 Improved education and better awareness to diet and nutrition are behind the recent good form of blockbusting Warriors centre Konrad Hurrell.
Just past the midway point in his third NRL season and his fourth playing rugby league, Hurrell overcame a difficult start to 2014 in which he battled weight and fitness problems and has emerged on the other side a more rounded athlete and footballer.
Warriors strength and conditioning coach Carl Jennings says the 22-year-old never lacked desire to work hard and explained that most of his development has come about through improved knowledge of how to get the best out of his 106kg frame.
"Konrad's always had a really good work ethic, so hard work wasn't his issue," Jennings said. "Konrad's issue is that he's a young athlete and I think people often forget how young he is. Physically, he's so strong and powerful. Most young athletes have to go through a process of education about the balance between lifestyle, training and nutrition, so we've gone through a big process with Konny and it's been a very steep learning curve."
That curve started when Hurrell returned 10kg overweight from an off-season holiday in Tonga following last year's World Cup. He was quickly put on a strict and demanding fitness regime and, although he was able to shed some of the excess weight, the effort required left him off the pace at the start of the season.
"All that extra work he had to put in before the start of the season actually made him a little fatigued, so initially he wasn't selected, first of all because he was having to do all the extra work and, secondly, he was in a pretty fatigued state at that time. But all that hard work he's put in, and all that education and work he's done with nutrition, has really paid dividends now."
Hurrell was relegated to New South Wales Cup duty for the first two rounds of the season before working his way back into form off the interchange bench. He's since scored six tries in 11 outings.
The 22-year-old is pleased with his form.
"It's been good but I still need to make improvements," he said. "It shows on the field. We talk about preparation and stuff like that going into a game and I just need to work on that. I need to improve every day and it's one thing I'm working hard on. If I train hard here, then I play harder on the field and that's what I've been doing."
The bad news for the Warriors' opponents is Hurrell still has some way to go before he reaches his full potential. He goes into Sunday's match against the Panthers at Mt Smart Stadium sitting on 49 first-grade appearances and Jennings is adamant the best is to come.
"He's not going to hit his maximum strength levels until he's between 28 and 32 so, if we continue with our strength programme, he's going to be a rugby league athlete with world-class strength."