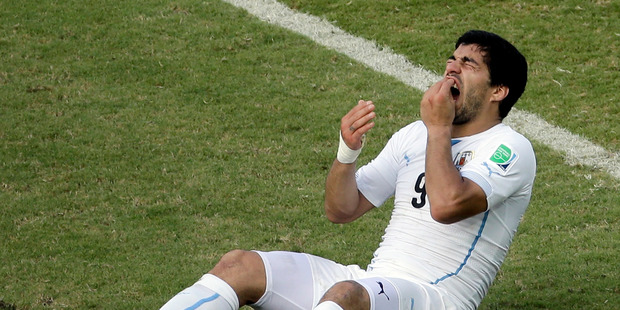 Michael Burgess on the five things we learned following the latest action from the World Cup in Brazil.
FIFA should compensate Liverpool FC
Why is Liverpool FC being punished for the actions of Luis Suarez at a World Cup?
Sure FIFA can ban him for international matches - but four months from all football activity is extreme. It means his club, who are playing around GBP200,000 a week for his services, suffers a huge penalty that doesn't make any sense.
Suarez obviously has a problem - and needs professional help and probably counselling - but he also surely needs to be playing football.
And what would FIFA's reaction be if a suspension imposed by the English Premier League, La Liga or Serie A meant that a big name would miss a World Cup?
The incident also reflects, once again, that FIFA are choosy about its villains.
German goalkeeper Harald Schumacher almost killed French midfielder Patrick Battiston in the 1982 World Cup with a deliberate flying charge that went completely unpunished.
Zinedine Zidane head butts an opponent in the 2006 World Cup final - and has to do a grand total of three days community service with FIFA. But a Uruguayan with an major image problem...
For once, Brazil are fearing yellow.
While local fans are in great heart as they sense steady improvement in the Selecao, there is obvious concern about the yellow card against Neymar's name, picked up against Croatia in the opening game.
It means the Barcelona star is just one booking away from a one game suspension, as yellow cards aren't cleared until after the quarter finals.
Supporters here don't want to comprehend the prospect of a match sem Neymar, as he has inspired both of Brazil's victories thus far.
The English Premier League needs a winter break
Unlike most European leagues, the EPL has a non-stop season, foregoing the Christmas and New Year break common across the continent.
That takes an extra toll on EPL players, which tends to manifest itself at World Cups and European Championships.
There was a clear contrast in Germany's match yesterday against the USA. Germany's English based players - such as Mesut Oezil and Lukas Podolski - looked flat and had little impact - while Bundesliga stars like Phillip Lahm, Bastian Schweinsteiger and Thomas Mueller were full of running and impressed across the 90 minutes.
An ugly World Cup for Asia
For the first time since 1998, there will be no Asian team in the knock-out stages of the World Cup.
The confederation still has massive bargaining power - thanks to the 47 nations under its banner - but the recent performances won't help their cause when future Cup allocations are decided.
Australia emerged with credit, getting close to taking points off both Chile and the Netherlands, before a flat display against Spain. Iran improved steadily, with a gutsy performance against Argentina the highlight but Japan and South Korea were the biggest disappointments.
Samurai Blue should have emerged from a relatively soft group C - they will forever regret their failure to put away a Greece team reduced to ten men - while the Koreans weren't a patch on their impressive teams of 2002 and 2010.
Big improvement needed from Belgium
The Belgians currently look like a team of individuals. There's plenty of big names but not a lot of big plays and they were fortunate to be seeded into a relatively modest group.
Now there's no more margin for error. Team USA have been impressive, and have been sharpened by three tough matches in one of the most competitive pools.
They will quickly capitalise if there is another slow start from Belgium and American journalists on the ground here are quietly confident of the team's ability to spring a surprise next Tuesday.