Johnson and Townsend work together well but need to dig deeper tomorrow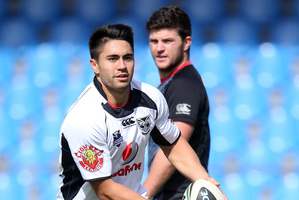 The combination between Warriors halves Shaun Johnson and Chad Townsend will be put under the microscope when they come up against the Penrith Panthers in tomorrow's clash at Mt Smart Stadium.
How well the pair execute their last tackle plays and kicking game will be crucial, and their match-up against Panthers pair Peter Wallace and Jamie Soward will no doubt prove pivotal to the outcome.
Last week's patchy win over the Broncos was achieved despite some below par kicking, from Johnson in particular, but Warriors coach Andrew McFadden says they need to improve in that area to beat the Panthers.
"They've got an extremely good kicking game and it's certainly something we're going to have to match if not beat them with. But there are certain areas of our game we need to improve. It wasn't all bad on the weekend but we need to be better that's for sure." .
Both pairings are relatively new combinations, with Townsend joining the Warriors this season from Cronulla, while Wallace and Soward arrived at Penrith this year after long stints with Brisbane, and St George Illawarra and the London Broncos respectively.
Panthers coach Ivan Cleary says the differing personalities of his six and seven gives his side balance, while their combined years of NRL experience shades that of the Warriors young guns.
"Our boys have been very solid this year. They've worked well together, it's the first time they've played together, after both coming to a new club this year. Just in terms of personalities they're almost the odd couple so they seem to get on and work well together," Cleary said.
"They're both very experienced and that helps as well. Those guys are the ones that have to make the big decisions under pressure all the time and our guys have been doing that for a long time and so far this year they've handled that well. On the other hand both Shaun and young Townsend are still gaining that experience but at this point they look like they're working pretty well together."
Townsend acknowledged Johnson's boot was off the mark at times against Brisbane but said they had both worked hard on their kicking through the week and felt he could do more to help his No7.
"Shaun has been our dominant kicker lately and when you do as many kicks as he does there's going to be a couple that don't come off. We trained on it and I think I can step up there and take a bit more pressure off him and it's something we need to do as well," he said. "The Panthers have been playing some good footy. They don't have a star team but they've got a lot of individuals who do the job on a consistent basis and we need to lift our game from last week if we are to get the win."