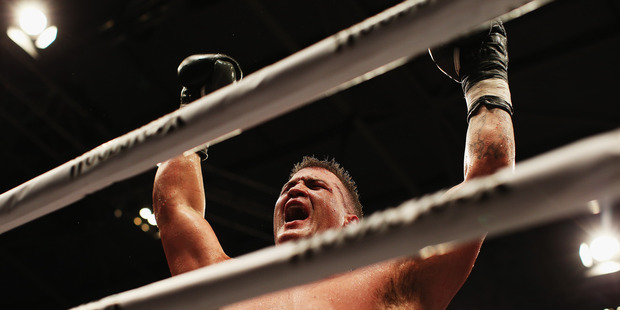 The build-up to the showdown between New Zealand heavyweight Joseph Parker and Brian Minto took another twist today when Parker's trainer Kevin Barry revealed the American has been taking testosterone, a performance-enhancing drug.
Barry's determination to get a "level playing field" for Parker included his request of a drugs test for both men, but that fell through this week as professional boxing is not signed up to the World Anti-Doping Agency protocols for testing.
However, Barry turned the screw further after Parker's open sparring session in South Auckland, when claiming Minto had told promotor Dean Lonergan that he was on a prescription testosterone replacement therapy.
This afternoon Minto confirmed he has been on the medication for five years.
"Brian told me probably about four or five months ago," Lonergan said. "He asked me 'do you have a drama with it' and I said 'so long as it's cleared I don't have a drama with it'. I understand he's on prescription and he's also got a medical clearance so I don't have any problem with it."
He added: "It comes down to what levels he's at. But it's very difficult to get it [testing] done with validity."
Minto said he was angry at Barry for revealing his medical condition. He said he suffers from hypogonadism, a condition in which the body does not produce enough testosterone. "I've got a tonne of medical papers if anyone wants to see them," he said. "He definitely was in the wrong doing that."
Barry, however, wasn't moved. He said: "I don't know if he thinks admitting to the promoter that he is taking testosterone is okay because 'I've told him'. It's not. The bottom line is it's illegal and he shouldn't be taking it. This whole aspect that 'I'm taking it because of medical reasons' is a crock of sh*t. He's taking it because of the results that it gives him - the increased strength, the lean muscle mass and the recovery. He wants at the age of nearly 40 to feel like he did when he was in his 20s.
"I looked at the photos of when he was here last fighting Shane Cameron and obviously his body shape has changed in the last six months considering the fact that when he came down here he had just had two fights in the UK and claimed to be in great shape.
If that was him in great shape, now he is in much, much better shape. It's my job as Joseph's trainer to be able to ask that question."
The drugs issue is another controversy during what has already been a murky build-up to the fight in Manukau a week tomorrow. Minto claims Parker was dropped in sparring and is still having problems with an eardrum that was perforated in his last fight two months ago, accusations the 22-year-old has angrily denied, telling Minto he is going to "hurt" him.
Minto confirmed today he did not have a broken nose after suffering an injury in sparring this week.
- APNZ