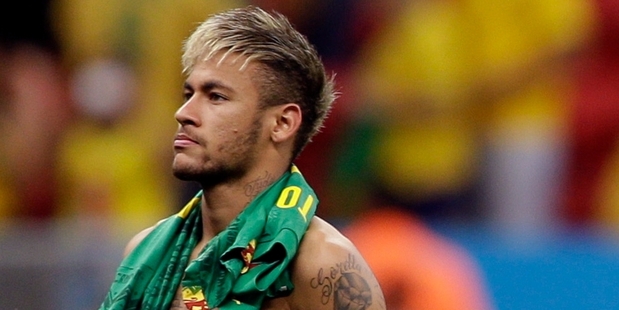 When street protests erupted in Brazil a year ago, Neymar issued a statement that enhanced his hero status. "I want a Brazil that is fair and safe and healthier and more honest," he said. "The only way I have to represent Brazil is on the pitch. I'll get on the pitch inspired by this mobilisation."
For a 22-year-old footballer with a country on his back, this was a pretty bold declaration. Here was a multi-millionaire declaring allegiance to the people rather than the world he had joined. To believe him, you only needed to ignore his family's role in his 82.6 million ($128.5 million) transfer to Barcelona - originally listed as 57.1 million - which ended with the club paying 13.5 million to the Spanish tax authorities and the president, Sandro Rossell, resigning before his term was up.
Part of the difference between those two sums went to Neymar and his family, who were not guilty of any crime but were party to a deal that left the Spanish public purse short by 13.5 million.
So when he called for "better transport, health, education and safety", Brazil's poster boy was fretting about his own people rather than those in Spain.
The scandal over Neymar's move from Santos to Barcelona partly explains why he made a fitful start in Catalonia. All season there were flashes of artistry from Lionel Messi's new accomplice but no consistent evidence that he would take over from Messi and Cristiano Ronaldo as the world's next great player. In March, Gerardo Martino, the Barcelona coach, admitted that Neymar had waxed and waned: "If I had to choose one reason," he said, "I would focus on the non-sporting issues."
Aside from YouTube clips of outrageous flourishes, Neymar was not fully formed in the minds of European audiences. Brazilian footballing gods are not waif-like creatures with dyed hair. Pele, Zico and Ronaldo had none of Neymar's physical vulnerability. When a Cameroonian shoved him off the pitch and towards a bank of photographers in Brazil's 4-1 victory on Monday night, it looked like a case of bullying. Can the pretty boy be intimidated?
No chance.
Neymar's nation-lifting form has been the biggest individual achievement of this World Cup. No Brazilian carries such a burden of expectation.
Talent blessed him with a capacity to win games by himself and cursed him with the hopes and dreams of a country that was grumpy when this tournament started but seems a lot more enamoured with it now.
Many of us doubted whether Neymar could grasp the role of talisman. But in the first game against Croatia he ignored suffocating pressure to score; in the third, where he struck twice against Cameroon, he seized the role denied to him at Barcelona, where Messi is the icon. At the Nou Camp, he is to Messi what Gareth Bale is to Ronaldo. With Brazil, he is liberated by responsibility.
The hosts' journey through this tournament is a knife-edge ride. One slip - against Chile on Saturday, say - could end the ceasefire between protesters and authorities. All the pent-up anger over the event's cost has been held back by the opiate of the football. Nobody would call this the best Brazil side to contest the World Cup but they are demonstrably playing for the people and gaining in confidence.
Neymar is providing the inspiration. "We are on the right track and are growing all the time as we get closer to making our dream come true," he said as Brazil secured top place in their group, in Brasilia.
The counterpoint to Neymar's brilliance, of course, was the comparative journeyman, Fred, scoring his first goal of the tournament after Neymar had told him to grow a moustache in the hope that it might change his luck.
"We depend on Neymar like Argentina depend on Messi," Luiz Felipe Scolari, the Brazil coach, said. "The top-level players make the difference and Neymar participates in so much of what we do."
Scolari paid tribute to Muricy Ramalho, Neymar's coach at Santos, for toughening him up: "Muricy drilled it into him that he must sometimes stop creating and take part in marking when the opposition has the ball, and this is something that people don't always see."
Neymar now has 35 goals from 52 caps and only Pele and Zico can claim a superior ratio.