Fifa needs to bare its own fangs over vampire striker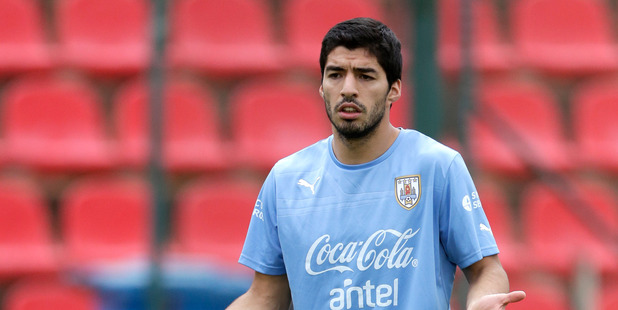 Three bites and you are out.
That should be football's response to a third Luis Suarez biting scandal in four years, this one damaging the image of the World Cup in Brazil, a tournament otherwise elevating the game to new heights.
If the Uruguay striker is allowed to play again, as no doubt he will unfortunately, he should be forced to wear a muzzle or at least a mouthguard to protect opponents. This is certain: the rest of us need saving from "Chewy" Suarez, whose outbursts are obviously beyond his emotional control.
If Suarez is found guilty of biting Italian Giorgio Chiellini - and photos certainly appeared to show fresh bite marks on the defender's shoulder - it should spell the end of his career.
More Suarez news to sink your teeth into:
Suarez brings bitey bonus for 167 gamblers
Fifa urges to get tough over Suarez bite
FIFA charges Suarez over biting
Unfortunately, the maximum penalty is 24 games or two years and international bans don't traditionally extend to the club scene. It will be galling to see Suarez turn up in the English Premier League next season, where he could laugh in our face. Maybe a criminal assault prosecution could be pursued. Perhaps Liverpool will do the decent thing and institute their own ban. Suarez is one of the best players in the world but also a disgrace that needs removing.
Other players do not deserve the indignity, distraction and dangers of facing a man who habitually sinks teeth into flesh, an act that makes most of us sick to the stomach. The rest of us should not have to witness his demented behaviour.
The Uruguay striker went out of his way to attack Chiellini, who reacted with fury. Suarez made a long run to make contact then ducked his head into the Italian's shoulder. The subsequent Suarez dive and pretence of holding his injured mouth was pathetic.
His post-match arrogance and false description of the incident along with ridiculous conspiracy claims by his team, including that Chiellini had an existing injury, rubbed salt in our wounds.
The 27-year-old has been banned twice since 2010 for biting opponents in Holland and England, and it would be no surprise if there were other unreported incidents. Will football really allow him back on the field where he will likely do it again? And then what?
I've read one clever feature which attempted - with empathy - to unravel the Suarez psyche. The man needs help, but it also gets to a point where protecting the game from this appalling, unprecedented form of violence is paramount. So Fifa, please look at the big picture and be as tough as you can.
Mountain to climb
On one hand, the skill and flow of the World Cup games and avalanche of goals is fabulous. Football has never looked better. The highlights include among the best saves in international football, by the Mexican Guillermo Ochoa against Brazil. World Cups need those iconic moments.
On the other hand, this tournament emphasises the mountain the All Whites must climb to give us another World Cup adventure to savour. The new-look All Whites have encouraging levels of skill, but Brazil suggests New Zealand are further off the pace than ever.
There are so many countries with extreme skill levels, meaning a new wave of contenders ready to challenge and beat the old guard.
The romance and magic of the early 1980s All Whites' campaign will never be repeated. The results of 2010 - when Ryan Nelsen's troops drew three games - look just as far away.