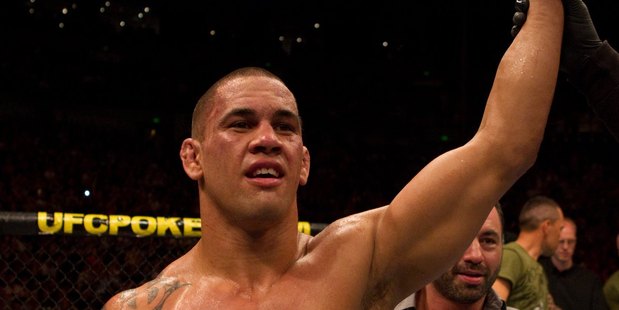 When you're nearing the final stages of your training camp, a fighter will look for motivation in different ways.
For me, I had the opportunity to catch up with some of my extended family two weekends ago in Turangi, which is where my father was from.
It was a great chance to clear my head and get away from fighting for a couple of days and I went hunting with some family and friends and it helped me refocus.
We didn't catch a lot but that didn't matter because it was the perfect break from the grind of training that I was after and my final few days of camp last week were really strong.
My team and I enjoyed some solid workouts and I can't thank my sparring partners Robert Whittaker and Manny Rodriguez enough for helping me prepare for my headline bout with Nate Marquardt at UFC Fight Night 43 in Auckland this weekend.
I feel like I made the right choice to do the final five weeks of my training camp in New Zealand and it's been a humbling experience seeing how many people have recognised me when I am out and about in Auckland.
Many of you have wished me good luck for this fight and I know I can put on a great performance when the bell sounds on Saturday.
This week is all about cutting weight and because I am dropping down to middleweight from light heavyweight for this fight, I will need to weigh in at 84kg.
When I was a light heavyweight and fought at 93kg, I was always having to eat to keep my weight up but this time I am focused on dropping down.
I will do a few light physical activities this week such as cycling or jogging but won't do anything that puts me at risk of picking up a late injury.
Friday's weigh-ins will be a big day and I am confident I will step on the scales at Vector Arena and be in great condition and comfortably make weight.
There will also be a fan Q & A with Gold Coast-based Kiwi Dylan Andrews and English fighter Ross Pearson, so you should come down to Vector Arena from 3pm and ask them anything about MMA.
Tomorrow afternoon is also a great chance for the fans to come and catch us down at The Cloud in Auckland where we will be signing autographs and posing for photos too.
I want to wish Robert the best of luck for his welterweight fight with American Mike Rhodes on Saturday, while I am excited to see what Auckland's Dan Hooker can do at featherweight against Englishman Ian Entwistle.
Now, some of you may remember my 'Men in Black' themed-entrance for my fight with Ryan Jimmo in February last year. I can't make any promises but I am speaking with the right people today about possibly creating another entrance for Saturday night so you should keep your eyes peeled.
Thanks again for all your support.