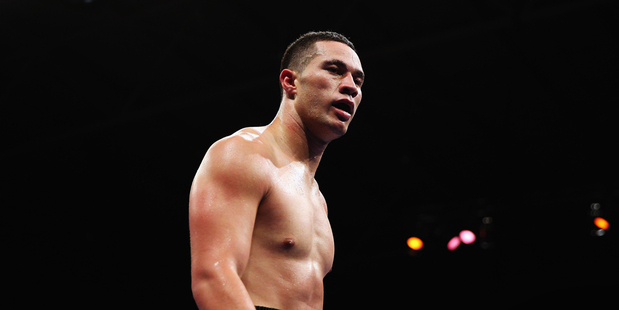 New Zealand heavyweight Joseph Parker has hit back at what he describes as "stories" being told by opponent Brian Minto, telling the American he is going to "hurt" him at their clash in Auckland a week on Saturday.
It is the first time 22-year-old Parker has taken on an opponent during the lead-up to a fight. He normally takes a respectful, low-key approach. However, this morning, his irritation was clear as he addressed rumours about being knocked down in training and a suggestion from Minto that his perforated ear drum, suffered in his last fight against Marcelo Nascimento in Germany in late April, might not have healed.
"He's been spreading a few stories about me in my hometown, saying that I've been dropped in sparring and saying there's been problems with my ear," Parker said. "But to be honest, Brian, there's nothing wrong with my ear. It's perfectly fine.
"It was great to be in that training camp when you trained for Shane Cameron where I could see how you prepare for a fight and see how you prepare mentally as well.
Come July 5, on behalf of New Zealand I'm going to avenge that loss you gave to Shane Cameron and I'm really going to hurt you."
Asked about the change of approach, Parker replied: "I've been in camp for six weeks in Vegas and I've trained the house down. I'm a lot more confident in myself, I'm confident about what I can do in the ring, that's why I've reacted that way today."
Both Parker and his trainer Kevin Barry were in Minto's corner for his stunning victory over Cameron late last year, which brings a different dynamic to their showdown. It is understood that Barry was instrumental in securing Minto as an opponent, but an added edge has come in the form of Barry's request Minto be tested for performance-enhancing drugs. Both men will be tested tomorrow morning.
Minto, who like Parker, looked in excellent physical condition, said he wasn't bothered by the pre-fight chat from Barry. As far as Parker's trouble in training was concerned, that was something he heard from one of the South Aucklander's sparring partners, he claimed.
"It could be talk, but usually when you have a perforated ear drum it takes two months to heal. I don't believe it's been two months. I brought that out there because I thought it was something that needed to be addressed.
"I'm not talking trash, I'm just saying the facts that I've heard."
Another controversy building ahead of the fight in Manukau is the fact Minto is refusing to wear the Everlast MX gloves Parker prefers. The gloves, padded with a blend of horse hair and form, were referred to as "cheaters' gloves" by Minto.