Country's football association president agreed to let team take part in rigged international fixtures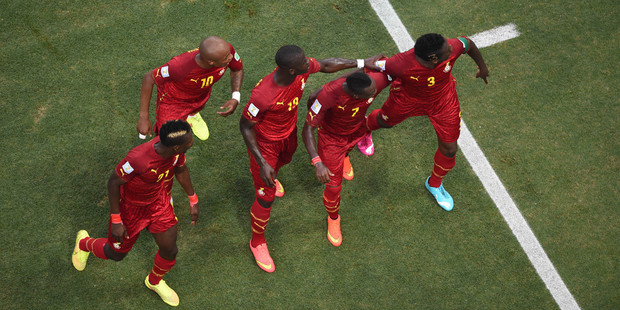 Ghana was yesterday exposed as agreeing to take part in international football matches organised by match fixers.
An undercover investigation by the Daily Telegraph and the UK Channel Four's Dispatches programme found that the president of Ghana's Football Association agreed for the team to play in international matches that others were prepared to rig.
The team is competing in the World Cup finals in Brazil, and on Sunday pulled off a 2-2 draw against Germany in what was seen as one of the most entertaining games of the tournament so far.
However, it can be revealed that the African team had been lined up to play in international fixtures whose results would be fixed by corrupt officials.
The Telegraph and Channel 4's Dispatches launched a six-month investigation into match-fixing after receiving information that some football associations were working with criminal gangs looking to rig scores in international games.
Reporters and a former Fifa investigator claimed they represented an investment company that wanted to "sponsor" games. Christopher Forsythe, a registered Fifa agent, along with Obed Nketiah, a senior figure in the Ghanaian FA, boasted that they could employ corrupt officials who would rig matches played by Ghana.
The president of the country's football association then met the undercover reporter and investigator, along with Mr Forsythe and Mr Nketiah, and agreed a contract which would see the team play in the rigged matches, in return for payment.
The contract stated that it would cost US$170,000 ($195,000) for each match organised by the fixers involving the Ghanaian team, and would allow a bogus investment firm to appoint match officials, in breach of Fifa rules.
"You [the company] will always have to come to us and say how you want it to go ... the result," said Forsythe.
"That's why we will get the officials that we have greased their palms, so they will do it. If we bring in our own officials to do the match ... You're making your money.
"You have to give them [the referees] something ... they are going to do a lot of work for you, so you have to give them something," said Nketiah.
Forsythe said that match fixing was "everywhere" in football. When they were confronted about their operation, Forsythe and Nketiah denied any involvement in a plot to fix matches. Nketiah said: "These are false allegations and I will never in my life do such a thing."