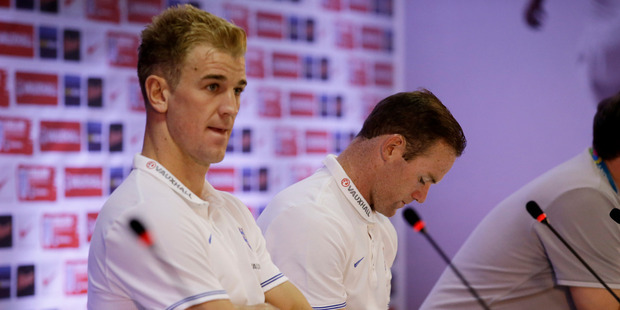 Hundreds of English TV viewers are calling for adverts featuring England football players to be pulled after being knocked out at the group stage of the World Cup.
Supporters are furious that players including Steven Gerrard, Daniel Sturridge and Joe Hart are still being shown on their screens despite their embarrassing performance.
Hundreds have taken to Twitter to vent their anger and are demanding the adverts are pulled.
One fan posted on the social media network: "Just woke up and turned TV on to the Mars advert with Gerrard scoring with an overhead kick. Is that some kind of sick joke?"
Another wrote: "There is something that winds me up now seeing an England player in a TV ad. Not inclined to buy Doritos or a Subway any time soon."
While another tweeted a message to ITV which read: "An idea for you. Don't show ads with England players in just after we've been rogered in the World Cup for the 2nd time in a week."
Hart stars in a number of adverts including Gillette and Head & Shoulders, Carlsberg and Doritos.
Mars has revealed its advert starring Danny Welbeck, Sturridge and Gerrard will not be shown on TV screens from next week.
The clip shows Gerrard booting the ball into the back of the net which has particularly annoyed fans.
A Mars Chocolate UK spokeswoman said: "We are an Official supporter of the England team and continue to back the team and the fans.
"Our partnership with the FA is about more than just the big tournaments and together we're looking to get 1 million adults back in to football over the next four years.
"Our campaign this tournament has been about rewarding the fans with the chance to win one of 500,000 limited edition England shirts and also offering free 'Just Play' football sessions which give the fans the chance to get out and have a kick about themselves right through to the end of the tournament."
The hopes and dreams of England fans were left in ruins after Costa Rica upset the odds by beating Italy 1-0.
In their worst performance in the tournament since 1958 - losses to Italy and Uruguay in their first two fixtures mean they will be leaving Brazil before the knockout stages.
Bryan Ruiz's 44th minute header led Costa Rica to a shock 1-0 win against the Italians.
A victory for Italy would have given England a glimmer of hope going into their final fixture - but the result leaves it mathematically impossible for them to qualify.
The nation has spent months watching football-themed adverts, seeing streets and shops taken over by St George's flags, and hearing hours of punditry explaining why this could be England's year.
Twenty-five million fans cheered on England during the crunch showdown.
However, it is believed England's World Cup failure could put a £1.3billion hole in the economy.
With three weeks of the tournament still to go, England crashing out at the group stages will hit the high street.
Experts said making it to the last 16 would have given shops, pubs and restaurants a massive boost worth £2.58 billion.
According to figures from VoucherCodes.co.uk, each England goal triggered a £198.5 million spending spree.
However, England paraphernalia will most probably be available at reduced prices.
In 2010, when England were knocked out in the second round of the World Cup, shares across the main pub companies had plunged almost eight per cent on average, after three days of trading.
Yesterday, goalkeeper Joe Hart and forward Wayne Rooney apologised for their early exit.
Rooney told fans he was "sorry" in contrast to when he responded to booing fans during the last World Cup which ended with him ranting on TV.
Meanwhile, Hart said: "I can't thank people enough for making this trip to Brazil, for making the efforts at home, for staying with us. If I wasn't here myself I would be doing the same. I can speak on behalf of the lads that we've left nothing to chance, we have tried everything."
Rooney write in his Facebook page: "Absolutely devastated to be out of the World Cup.
"Going into each game we had great belief in ourselves but unfortunately it hasn't worked out.
"Sorry to all the fans who travelled and at home that we haven't done better... gutted!"