Aimless kicks, lost possession and glaring errors leave coach McFadden puzzling.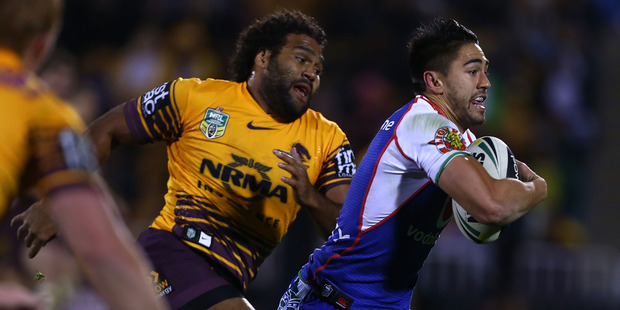 Warriors coach Andrew McFadden was at a loss to explain his side's sluggish performance in Saturday night's 19-10 win over the Brisbane Broncos, but admitted he sensed they were off the pace heading into the match.
Coming off the bye round, the Warriors struggled to match the Broncos' early enthusiasm, with quick plays and defensive line speed giving the visitors momentum. Spreading the ball wide to the right, Brisbane found room on several occasions, with centre Dale Copley breaking tackles and offloading to keep the Warriors' defence on the back foot.
The Warriors' forwards had no trouble carting the ball into opposition territory, but halves Shaun Johnson and Chad Townsend offered little in attack, and several promising sets went awry on the back of aimless kicks, both through the air and along the turf.
"I must admit I felt it before the game that we were not probably quite as focused as we should have been so it's certainly something we'll talk about during the week," McFadden said.
"I'm not sure if it was the bye because the last time we came off a week off we came out pretty good, so we'll have to have a look at all that."
Pressed on what signs gave him the impression his side were not completely switched on, McFadden put it down to a gut feeling.
"Just a general feel, you can feel it. Usually when your players are switched on you just can feel it.
"They don't go away, the Broncos. They're a real competitive side so we're very happy with the win."
Coming off their line, the Warriors are usually well served by their imposing outside backs, but Manu Vatuvei, Konrad Hurrell and Sam Tomkins were all guilty of coughing up possession, while the normally reliable 19-year-old wing David Fusitu'a made two glaring errors, which epitomised the team's off-colour display.
"I guess that's why we didn't play that well. We just put ourselves under too much pressure and we never really put the opposition under much pressure so that was certainly a concerning thing that we'll have to work on," McFadden said.
One positive sign was the improving form of replacement back-rower Feleti Mateo, whose timely arrival on the park sparked the Warriors attack into action when he delivered a nice ball to put Ben Henry away for their first try.
"I thought that was his best game," McFadden said. "He obviously provided some spark for us because we were lacking that at some points in the game."