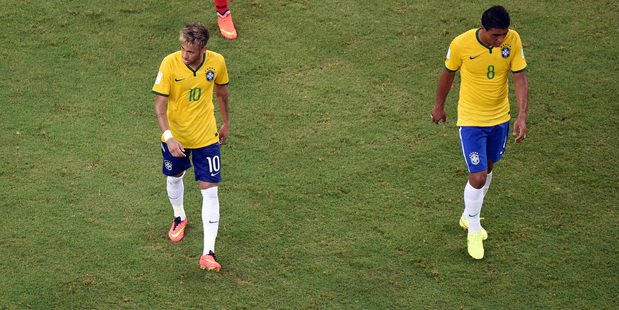 Brazil are on home soil, with an unparalleled history of success, an array of talented players and two World Cup winning coaches on board. However, that doesn't mean they will win the tournament, for the following reasons.
Unbearable pressure
The pressure that the Selecao is under is extreme, almost immeasurable. Not only do they have to win this tournament to exorcise the demons of 1950 (64 years on, Brazil's infamous loss to Uruguay in the Maracana still cuts deep) but the team knows that only ultimate triumph will in some way vindicate the grandiose and excessive spending on this World Cup. In a country where tens of millions live for football, this prospect of another failure on home soil is incomprehensible.
Neymar's burden
Neymar has the weight of a nation on his slender shoulders, but can he carry his team to victory?
The 23-year-old is coping with the pressure extremely well, and his practice of walking down the line to shake hands with each of his team-mates before kick-off is reminiscent of Diego Maradona.
But his debut tournament might be too early for the former Santos prodigy, as we have seen with previous global stars. Remember Maradona failed to shine at his first World Cup; Lionel Messi struggled to make an impact in his first two bows at this level while Ronaldo suffered in 1998 before the triumph of 2002.
Defensive questions
World Cup wins are often based around a mean, efficient defence. In 2010 Spain didn't concede a single goal in the knock-out stages (four consecutive 1-0 wins) while Italy four years earlier only gave up two goals across the whole tournament. France's win in 1998 might remembered for Zinedine Zidane's attacking flair, but their goalkeeper was beaten just twice over five weeks.
It's uncertain if Brazil has that solidity, especially on the edges of their defence. Apart from being incredibly one footed, Marcelo can be exposed down the left flank and will be targeted against the big teams. Dani Alves is an accomplished player, but lacks both the offensive and defensive qualities of 2002 captain Cafu and struggled against Mexico.
Most hosts fall short
Hosting a World Cup brings definite advantages, but doesn't mean that you will walk off with the trophy. In the last eight tournaments dating back to 1982 seven of the eight host nations have failed to score the ultimate prize, and that list includes major football nations like Spain, Italy and Germany.
Tough run
The World Cup is a gruelling slog, with seven games packed into 30 days for the two eventual finalists. It's all about endurance and Brazil will have a tough run, sure to take a physical and mental toll. Apart from having more off field demands than any other team, they will also clock up significant miles, with two games in the Northern most venue (Fortaleza) mixed with matches in the central and the southern regions of Brazil.
And they will be severely tested on the field. Croatia and Mexico have already made the Selecao work in the group stages, while Holland (potential second round opponents) has a good record against the famed yellow shirt, losing just one of their four World Cup clashes. In the quarter finals Brazil should face either Uruguay or Colombia before a possible meeting with Germany in the semi final.
The ghost of Serginho lingers
Serginho was the striker often blamed for Brazil's famous failure in 1982, when a star studded team was upset by Italy. Apart from defensive frailties, the lack of a effective striker was pinpointed as a key failing. This team could have the same problem. Fred, so effective at the Confederations Cup last year, has been quite anonymous at this tournament thus far and Jo looked equally unconvincing. Hulk is an undoubted threat, but has struggled with injury and is usually employed on the flank.