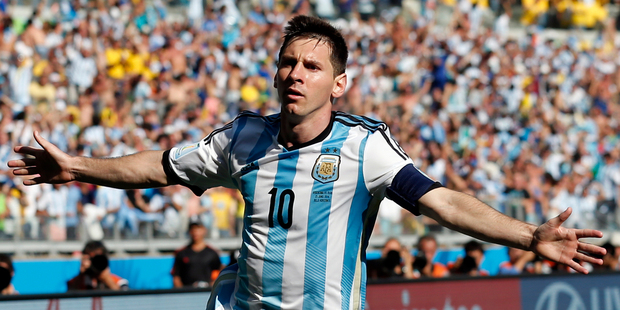 Herald on Sunday's Michael Burgess looks at five things we learned from day 10 of the FIFA World Cup.
The World Cup needs African success.
The clash between Germany and Ghana was one of games of the tournament, a brilliant contrast between African verve and European resilience. German coach Joachim Loew described it as "an open exchange of punches, played at a terrible pace".
The Ghanians were thrilling to watch in Fortaleza today, whether they were trying overhead kicks in their own penalty area or 50 metre dribbles from the halfway line. Thankfully they are still in the tournament - just - and neutrals will hope that the `Black Stars' can find a way out of Group G.
Nigeria is also well placed to progress - after their exciting but controversial win over Bosnia Herzegovina - and the Ivory Coast may yet complete a trio of African nations.
Messi's the man - but Argentina have issues
On the surface, everything is set up for Argentinian success at this tournament.
Firstly, they have a kind travel schedule, barely set to leave the cooler climes of the central and southern regions of Brazil. The 1978 and 1986 champions have also been fallen on the easier half of the draw; as well as a soft group, they should avoid the major nations until the last four. But can they make it that far? They have looked unconvincing in both group games so far, leading to some Argentine journalists here to speculate that something is not quite right in the camp.
But anything is possible with Lionel Messi - and the similarities with Diego Maradona and 1986 (carrying a workmanlike team to victory) are growing stronger by the game.
Didier Deschamps turns water into wine
Who would have thought? French coach Didier Deschamps has performed wonders with his team, who currently look the most potent attacking side at this tournament.
Remember yesterday was the anniversary of the 2010 version of Les Bleus almost going on strike in South Africa, but this team look unified and powerful. It helps that they don't have too many stars - with troublemakers like Samir Nasri left at home.
Deschamps was derided as a "water carrier" during his career - for his unfashionable style - but the 45-year-old may have the last laugh, with France looking a good bet to make at least the quarter finals.
CONCACAF is winning the battle of the middleweights
Costa Rica's stunning run at the World Cup is also a massive boost for their region.
Outside the powerful confederations of Europe and South America, there is always some jostling for more places at World Cups and now the North and Central American confederation has additional bargaining power.
Los Ticos have qualified for the round of 16, and could even go further with the prospect of a winnable game against Ivory Coast or Japan. Mexico have already performed above expectation by avoiding defeat against the host nation and the USA have it in their own hands to progress.
FIFA's seeding system has more holes in it than Swiss cheese
The folly of the seeding arrangements for this World Cup - based solely on the top eight FIFA ranked nations at the end of October last year - look even more flawed after Switzerland's hiding at the hands of France. How could the Swiss, who have almost no World Cup pedigree, be seeded ahead of the Netherlands, Italy, France and even England?
Luckily for the central Europeans, they landed in a relatively easy group - imagine if they had been in group B, D or G - and may still progress but won't go further than that.