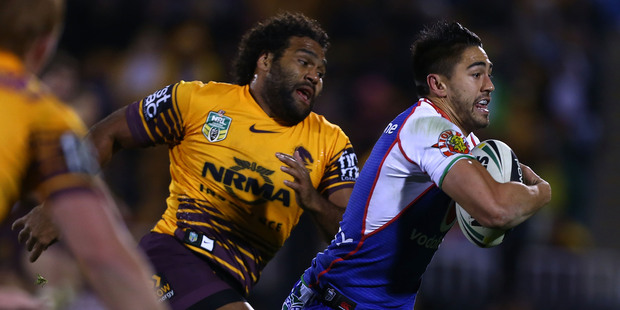 Warriors halfback Shaun Johnson cut a dejected figure post-match despite his side showing strong character to take a gritty win over the Brisbane Broncos.
The Warriors showed composure to strike back following Ben Barba's late try and produced a strong defensive effort throughout the final stages to clinch the result, however Johnson made it clear he was unhappy with his own performance and his side's patchy display.
"We probably weren't at our best or anywhere near of what we're capable of but two points is two points and we can be happy for that," he said post-match.
"We showed a lot of character to stick at it but we just kept making it hard on ourselves. Being lazy and just not doing what our job was. I'm just not satisfied. It was just one of those games and I think we all felt it. We came in here after and we weren't satisfied at all so I'm just looking forward to next week."
Warriors coach Andrew McFadden was unimpressed with Johnson's kicking game, with several high balls and grubber kicks to the ingoal failing to find their mark, and made it clear he expects better from his No7.
"I thought his kicking game was pretty average by his standards and he knows that already. The field goal was pretty handy but outside of that I thought our kicking let us down," he said.
As is often the case when the Warriors under-perform or suffer defeat, Johnson wears the weight of responsibility heavily, and is quick to be critical of his own game. He was filthy with himself after the Warriors narrow 21-20 defeat in their round six encounter against the Bulldogs at Eden Park and despite nailing three crucial conversions and a field goal, felt similarly again following last night's win.
"It's just individual accountability. I know I was off at the start of the game and in periods throughout the whole game I was sluggish. Maybe my preparation wasn't as good as what it should have been. It was a bit of a reality check and it's just time to get back into doing some hard work."