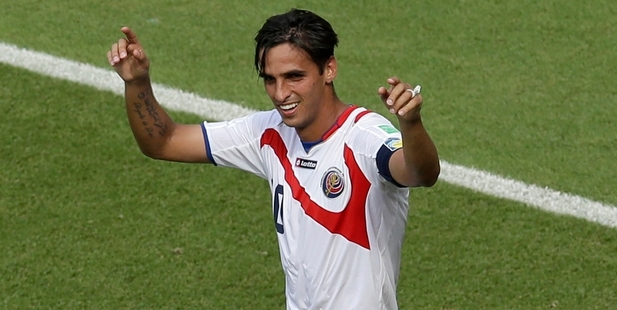 When England take their leave of major tournaments, usually after an incompetently executed penalty shootout, the photographs are invariably of footballers on their haunches or on the turf coming to terms with their distress.
This time, England could grieve in private. For the first time since 1958, they have failed to qualify from their World Cup group and for the first time they have been eliminated while not playing a match.
There is nobody in the football world who would argue that Costa Rica do not deserve their place in the knockout phase.
If their win over Uruguay was the shock of the tournament, this was something more.
In Fortaleza and now in Recife, they took their chances and defended superbly. Every tackle, especially the two from Junior Diaz that blocked Ignazio Abate's crosses, were cheered wildly by a stadium that recognised the measure of Costa Rica's achievement.
The sounds coming from the England team hotel in Rio de Janeiro would have been altogether different.
Italy played dreadfully and the price of their failure is now an epic, winner-goes-through contest against Uruguay in Natal.
"It's going to be an especially challenging match," Italy coach Cesare Prandelli said. "We played them last year in the Confederations Cup and after we played well for 35 minutes, they took over.
"Today our approach was wrong and we were just too slow. After we conceded the goal, we just couldn't get back into it."
It is 20 years since Italy came from behind to win a World Cup fixture and this was a feat they rarely looked like repeating once Bryan Ruiz had scored.
At the start of the tournament, Ruiz, who had been considered surplus to requirements by Fulham, said he hoped Costa Rica had something to play for when they met England in their final group game.
He did not get his wish. The game in Belo Horizonte will be a dead one. Costa Rica are through and England are out.
Luis Suarez had reduced the English nation to hoping that the underdog would be crushed underfoot. It was like watching Harry Potter and keeping your fingers crossed for Voldemort.
But for most of this game, the Italians did not look like the team that had produced what Prandelli had rightly called "an epic" against England in the suffocating heat of the Amazon. This was the Italy that had sleepwalked through their warm-up matches and prepared for Brazil by going to Rio de Janeiro and conceding three against Fluminense, a club team that were recently nearly relegated.
After the final whistle in Manaus, Italian players Claudio Marchisio and Marco Verratti admitted to suffering from hallucinations due to exhaustion. Collectively yesterday, Italy looked like they still needed to recover.
As former England striker Gary Lineker tweeted: "Just because we are reliant on Italy, it doesn't mean they have to play like us."
They were worse than Hodgson's side had been in either of their two matches. Costa Rica were just as effective, as they had been beating Uruguay in Fortaleza.
Mario Balotelli looked like he wasn't especially bothered about being rewarded with a kiss from the Queen, the price he had demanded for engineering victory over Costa Rica. The opening 45 minutes presented him with two chances, both inevitably conjured by Andrea Pirlo.
- Independent