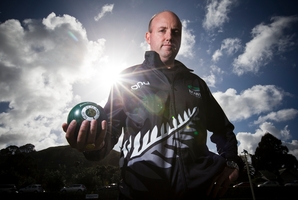 New Zealand's bowls team's preparation for the biggest challenge they'll face at the Commonwealth Games moves up a gear this weekend.
The squad will play an Auckland invitation team at the Pakuranga club.
Pakuranga has prepared an extremely slow green for the national team. It's not quite like for like, but it's close enough to give real value before they tackle the crawling pace of the greens at the Kelvingrove centre close to the heart of Glasgow and among the most picturesque venues at the Games.
New Zealand and Australian greens run at about 15 or 17 seconds; those in Britain are more likely to be about 10s or 11s. How to combat that disparity?
"It's the physical delivery," experienced team member Richard Girvan said.
"In New Zealand we have more of a sit down delivery because the greens are so quick. If you look at all the home nations - England, Scotland, Ireland and Wales - they all have a big forward motion delivery, big followthrough, big step. The difference between the two deliveries is quite considerable."
Girvan hopes the amount of preparation being put in - including tests in Cardiff en route to Glasgow - will help.
Some members of the team, notably young Queensland-based Selina Goddard, have practised on croquet greens to aid the adjustment.
"Any matchplay we get leading into the Games is extremely important. It just gets you into the right frame of mind," Girvan said.
New Zealand, like all competing nations, will get a limited amount of practice time at Kelvingrove. Girvan expects they might get one- or two-hour blocks for a couple of days before the Games begin. So the key is using that time in the best manner.
Girvan, a former Onehunga club bowler, has been living in Nelson Bay, north of Newcastle where he has been operations manager at the Nelson Bay Bowling Club for five years.
These will be his third Commonwealth Games, after Melbourne (2006) and Delhi four years ago. He'll contest the pairs with Games newcomer Blake Signal of Wellington, and the fours with Ali Forsyth, Signal and another newcomer, Tony Grantham.
He's optimistic about the prospects, saying there's no point unless you're aiming for the top.
Bowls is a true United Nations event. Teams will come from nations as diverse as Malawi, Botswana, Guernsey, Papua New Guinea and Niue.
"I'm a firm believer there will be a gold medal for sure. I'd like to think we could win all the events," he said, before adding that life doesn't work out that way.
"Bowls is a very level sport. Anyone can win on any given day. It's a sport where there's no dead set red hot favourites.
"And the greens themselves will be a great leveller."
Back to those greens. Master them and you're in business, is the message.
New Zealand have won 35 bowls medals at the Games - 11 gold, 10 silver and 14 bronze.
The most recent medal winner is Val Smith, who got silver in the singles at Delhi.