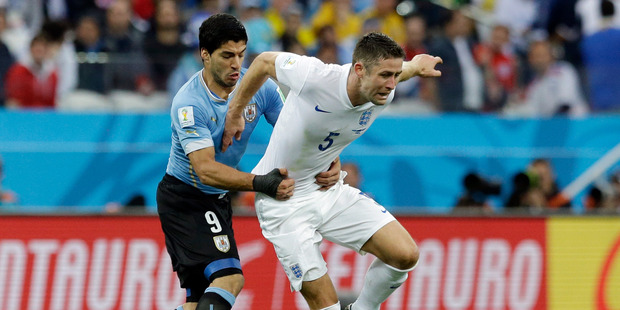 Michael Burgess on the five things we learned following the latest action from the World Cup in Brazil.
You can't buy experience - especially at the back
Blaming individuals for team defeats is never ideal but England's (likely) demise at this World Cup can be laid squarely at the feet of their defence, especially the centre half combination of Gary Cahill and Phil Jagielka. Their defending against Uruguay was calamitous at times. Both goals were exceptionally well taken by Luis Suarez but the lack of positioning and anticipation by the England markers was unbelievable. It reflected their relative inexperience at this level, with both men playing in their first World Cups.
The situation is also a marked contrast to previous England campaigns. From Bobby Moore to Terry Butcher and even John Terry, England always prided themselves on their strength in the middle of defence and often had limitations in terms of creativity in the attacking third. Now it is the opposite.
(Some) Americans still don't understand football
Their team has made great strides over the last decade or so, but there are still moments that remind you of football's place in the USA. An American journalist surprised veteran Uruguayan coach Oscar Tabarez with the following question in a post match press conference.
"Most teams are attacking a lot in this World Cup - why don't you guys attack more, instead of defending so much", said our scribe.
Tabarez, who has coached Uruguay for more than a decade across two spells, was to the point in his answer.
"Have you been watching the last eight years?," the veteran, who guided Uruguay to third at the last World Cup, asked. "We play our way, to our strengths. Every team has their own style and you need to find the way that suits you."
For competitiveness, nothing beats the World Cup
Spain's demise means that in three of the last four World Cups the defending champions have failed to progress past the first round. France were sent home early in 2002 and Italy famously last time. The last reigning champion to come close to defending their crown was Brazil in 1998, when they reached the final.
It is a situation that would be impossible at the Rugby World Cup and unthinkable in the world championships of almost every other team sport.
England's `curse' is alive and well
Since 1970, England has found consistently new ways to suffer at World Cups, with a series of heartbreaking exits. The pattern has continued here in Brazil. England looked good for long periods, especially against Italy, but the Italians and the Uruguayans have an invaluable history of grinding out results.
After today's game Brazilian television crossed live to a packed London pub, where one crestfallen supporter told the journalist that "this one hurts more than most, because we have actually played quite well."
It's the first time in their Cup history that England have lost their opening two games and though there is still a faint hope, the omens are not good. No team in World Cup history has suffered defeats in their first two matches and gone on to qualify for the knock-out stages.
Failure to regenerate cost Spain dearly
Coming into this tournament, Spain carried more players from the last World Cup than any of the other 31 teams. Sixteen of their 23 man squad had also played in South Africa four years ago; most of the other nations had less than half.
On the field La Roja lacked inspiration, energy and desperation and a few of their veterans just didn't perform. It could also be argued that their campaign turned on a single moment late in the first half against Holland. If David Silva had scored from a clear-cut chance (he tried an ambitious and ill-judged chip) to make it 2-0, it is doubtful Holland could have recovered such a deficit.