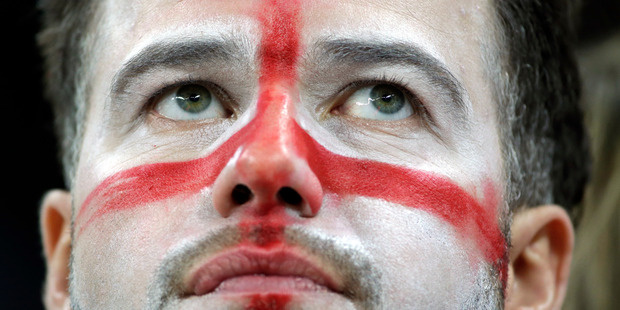 England are on the brink of elimination from the 2014 World Cup after losing to Uruguay 2-1 this morning. To make the second round now they would need to beat Costa Rica on Wednesday and have Italy beat both Costa Rica and Uruguay. We take a look at how the UK press reacted to the loss.
Suarez takes a big bite out of England's World Cup hopes with double strike
By Sam Wallace of the Independent
In past tournaments, England's demise has been a slow drawn-out affair, with the handwringing and the tears and the dreadful sense of foreboding. Brazil 2014 promises to be short and sweet.
If there was honour in defeat against Italy in Manaus, then this was just a very poor England performance.
Deadly Suarez puts England on the brink
By Henry Winter of the Telegraph
It had to be Suarez, the player who has been the best in the Premier League this year, the man voted PFA Player of the Year and FWA Footballer of the Year. It had to be Suarez slaying the team representing the FA, the organisation with which he has such history. Barring Rooney's close-range effort, England lacked the killer touch that Suarez had.
Suárez had been dreaming of this moment ever since the draw, ever since Gerrard had jokingly sent him a text saying that England had been granted an easy group. Suárez had been hoping to be fit in time for this test against a nation that had castigated and celebrated him in equal measure.
Suarez won the game after an error by Steven Gerrard
By Martin Samuel of the Daily Mail
It was all in vain. Wayne Rooney's first goal, the mighty effort in Manaus - almost certainly it ends here. England will need to be the first team in World Cup history to lose their opening two games and go through, if they are to qualify from here.
That isn't going to happen. It won't happen, most likely, because there is no guarantee England can win, even against Costa Rica, with a defence that cannot be trusted, not even for five minutes.
That was how long remained when Luis Suarez struck, a second time. It was a goal of almost agricultural quality.
England sunk by Uruguay as Luis Suárez makes his mark
By Daniel Taylor of the Guardian
After four years of planning, all that emotional commitment and anticipation, England's World Cup has unravelled in the space of five days and the defining image will be of Luis Suárez, on the floor, weeping with joy after the goals that had opened the door to show Roy Hodgson's team the way out. It is the first time England have lost their first two games and if, or rather when, everything is confirmed it will be an ignominious way to go.
England on brink of early exit
Phil McNulty of the BBC
Just as the momentum looked to be shifting towards England, Suarez was the tormentor again, latching on to a long punt from Muslera after Gerrard had lost an aerial challenge with Cavani, steadying himself before rifling an unstoppable finish high past Hart.
It was the final word on this game - and probably on England's World Cup hopes.