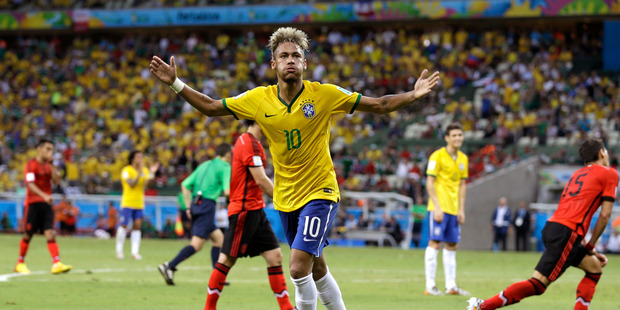 Michael Burgess on the five things we learned following the latest action from the World Cup in Brazil.
Don't mess with 'big Phil'
With his polo shirt and tracksuit pants, Brazilian coach Luiz Felipe Scolari looks like your friendly neighbour, who you might have a beer or a BBQ with. But the 65-year-old quickly put a local journalist in his place after the surprise draw against Mexico today, after the scribe insisted Scolari needed to make changes to his team for their next match against Cameroon.
"I've already told you this ten times," said Scolari with a smile disguised by a firm stare, as hundreds of journalists looked on in the vast room. "You can create a team in your mind, and talk about the players you would like to see but...this will not have an impact at all on my thinking."
Neymar needs an 'Amico'
For all his undoubted talents, Neymar needs a partner in crime in the Brazilian side. Too often today against Mexico the 22-year-old wonder kid was isolated and had to drop deeper and deeper in the second half to get the ball.
Watching him live was a revelation - he glides across the pitch and is deadly in possession, but is also willing to work and track back for his team. But the marking is only going to get better as the tournament goes on, making it vital that the Barcelona star finds a foil for his talents. Striker Fred has struggled to get involved in both matches so far, while Oscar and Bernard couldn't link effectively with Neymar today.
Was it just a lot of waffle about Belgium?
Coming into the tournament there was a plenty of talk about Belgium, and Les Diables Rouges were even made one of the eight seeds by FIFA. But can they justify the hype?
It's hard when you go from a team that is regularly underrated, to a side that just might be overrated. On the evidence of today's match against Algeria they will get through their group, but it is difficult to see them going further than the round of sixteen. There are still question marks over their defence, with the exception of Vincent Kompany while the absence of the injured Christian Benteke up front has created a problem that has yet to be solved.
Argentina will struggle to gain momentum
La Albiceleste looked good in their first up win over a stubborn Bosnian side, but they will struggle to come into the knock out stages firing on all cylinders. Both of their upcoming opponents (Iran and Nigeria) look like two of the poorer sides in the tournament and playing these two teams will be far from ideal preparation for tougher clashes in the knock-out sides. At least though this time their coach is incredibly low profile, compared to the sideshow with Diego Maradona four years ago.
The big boys still get looked after
It's not what you want to believe, but hard to sway the notion that the big teams still get looked after at the World Cup. Brazil, Spain and Germany have all had penalties granted that were fairly dubious (especially the former two) while other less prominent teams have had meritorious appeals turned down by the referees.