Origin plays a breed apart and TV frontmen are making great sport of telling us why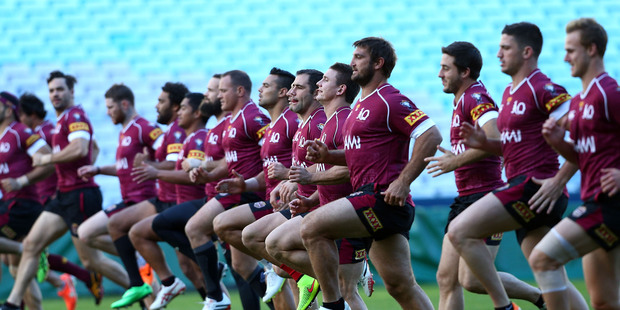 Game II of the State of Origin kicks off tonight, but some of the best entertainment lies in stupendously overblown pre-match hype. You've got to hand it to the commentators -- they sure know how to pump up their athletes. To help get you warmed up for tonight's big game, we at the Herald managed to get our hands on the script for the Channel 9 build-up. (To be read in a Rabs Warren voice):
Tonight is one of the most anticipated Origin clashes since the last one, with NSW just a win away from ending an eight-year series drought.
This is not like regular league games, which are determined by metres gained, tackles made, discipline, possession and line speed. THIS IS ORIGIN. The match will be decided by fate, destiny and the rugby league gods.
Here's Fats with the team lists:
NSW
1. Jarryd Hayne -- If God made a footballer in his image, surely it is this guy.
2. Will Hopoate -- Served a two-year Mormon mission but now answering an even higher calling -- Laurie Daley.
3. Josh Dugan -- Plans to buy his parents, who have lived in the same government housing in Canberra for the past 10 years, their own home.
4. Michael Jennings -- Once showed up to training under the influence of alcohol, that's how dedicated he is.
5. Daniel Tupou -- Don't be fooled by imitations in other codes ... this is the real Tongan Thor.
6. Josh Reynolds -- For breakfast he usually has scrambled eggs on toast or mixed berries with yoghurt. We know this from his fascinating Origin diary.
7. Trent Hodkinson -- We have a mysterious woman in a yellow dress to thank for Hodkinson finding his way into the Blues side over Mitchell Pearce.
8. Paul Gallen -- The G-Train, he hates everything about Queensland, even the Whitsundays.
9. Robbie Farah -- University educated, but only rarely talks down to his teammates.
10. Aaron Woods -- He put the "hard" into Leichhardt, where he played his junior footy.
11. Ryan Hoffman -- Off to join the Warriors next season ... a terrible waste.
12. Beau Scott -- Coaches the under-12s team at his local club and mows his neighbours' lawns ... with scissors.
13. Greg Bird -- Top bloke, helluva footy player, just needs to choose his flatmates more wisely.
And on the interchange bench we have Aussie Jim, Anthony Watmough, Luke Lewis and Trent Merrin.
Queensland (predicted line-up -- to be confirmed before kick-off)
1. Billy Slater -- Works with children to improve litrisy rates. Known for his philanthropy, but his most charitable act was gifting the Kiwis the 2008 RLWC.
2. Darius Boyd -- His name is derived from the Greek word meaning "maintains possessions well" -- which is what his side need to do tonight.
3. Greg Inglis -- Enjoys spending his spare time out on the water in his speed boat.
4. Justin Hodges -- Once served a bunch of NZ journos free drinks in a topless bar. True story. He had a shirt on.
5. Brent Tate -- The environmental campaigner who has come out against fracking since his head was used to bore a well beneath Suncorp Stadium three weeks ago.
6. Johnathan Thurston -- He has worked with the Red Cross Blood Service; tonight he'll be donating his own if it means winning.
7. Daly Cherry-Evans -- In the starting line-up for Cooper Cronk, who had to break his arm to make anybody realise what he did on the field.
8. Matt Scott -- 44.4 per cent of his name is made up of the letter "T". That's T for Tough.
9. Cameron Smith -- From the working-class town of Logan, because we're a working-class sport played by blue-collar men. Staying true to his roots, he has recently signed a multi-million dollar deal to stay with Melbourne, the furthest club (bar the Warriors) from Logan.
10. Nate Myles -- Hasn't defecated in a hotel corridor in nearly five years.
11. Sam Thaiday -- TGIT ... Thank God it's Thaiday.
12. Chris McQueen -- Played his junior league for the Kingaroy Red Ants, purchase a stylish bucket hat from their website for just $20.
13. Matt Gillett -- Razor sharp (sotto voce laughter).
Interchange: Ben Te'o, Jacob Lillyman, Aidan Guerra, Dave Taylor.
Now over to Phil Gould for the last word ...