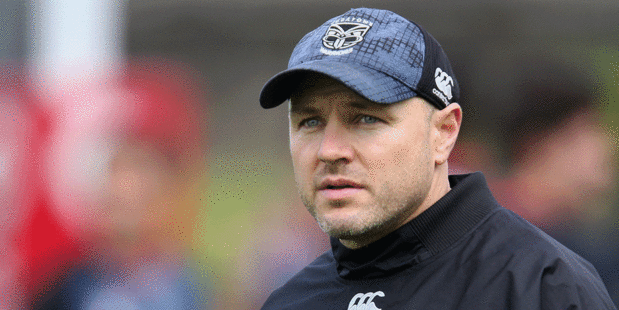 Nothing came easy for Andrew McFadden during his seven-year, 100-game first grade playing career.

The 36-year-old Warriors coach admits playing for Canberra, Parramatta, and Melbourne was no fairytale ride and nothing came without constant hard work and dedication.

Experiencing the rollercoaster ride of an NRL career has shaped McFadden's approach to coaching and given him the ability to relate to and mentor many of the Warriors' young stars.

"My experiences as a player have definitely helped me to be the coach that I am. I wasn't one of those guys that everything happened easily for.

"Especially in first grade, I had to really work hard at my game and I probably didn't reach any great heights as a player. I struggled with a lot of the things these players struggle with now," McFadden said.

"I'm fully aware of the pressures and expectation of a first-grade footballer and that helps me deal with those younger players."

Coming through the Raiders system as a promising junior during the Green Machine's glory days, McFadden found himself battling to fulfil expectations once he was thrust into first grade in 1997, as a replacement for halfback Ricky Stuart.

Playing alongside five-eighth Laurie Daley was a dream come true but trying to live up to the standards set by his new halves partner and other legends like Bradley Clyde, Brett Mullins and then-coach Mal Meninga, was a constant struggle.

"I remember playing with Laurie after he'd played with Ricky for 10 years or so. Ricky used to be able to throw the ball 30m across the field and I could barely pass left to right.

"I remember the pressure of just trying to get the ball to Laurie and I also remember those eyes when you didn't.
He used to have a very deathly stare if you made a mistake."
Overseeing Warriors halfback Shaun Johnson's development brings back many memories for McFadden, and while he demands excellence and consistency from the 23-year-old playmaker and the team's other young guns, he is patient and sympathetic to their situation.

"They play a man's game but a lot of these guys are very young in their maturity levels and it's not easy. It's a very tough and even competition and the expectation is very high.

"Most games are decided by small margins so being at your best is critical every week and that's the hardest thing to do. And for these young players it is a struggle for them all the time and something that is part of coaching and something we put a lot of time into."

Johnson has been at the forefront of the team's improving form over the past two months (four wins, four losses), which also coincided with McFadden's appointment as head coach, after taking the reins from Matt Elliott back in round six.
Johnson's scintillating ability in attack is now matched by a steely determination in defence, which wasn't always the case.

"The World Cup at the end of the year was a real turning point for Shaun. He came back in the pre-season and really worked hard on his deficiencies.

"He knew he had a weakness and he's really been working hard on it, and you can see the results of that. He's a reflection of the group, everyone needs to be better. He's got a lot more improvement to go and that's kind of scary."

Despite last Saturday's disappointing loss to South Sydney, McFadden is adamant the side is headed in the right direction and is looking forward to them making further progress after this weekend's bye.

"We're certainly very confident in our game still. That's not going to dishearten us. We know we've let an opportunity slip but I think the toughness in the group is definitely improving."