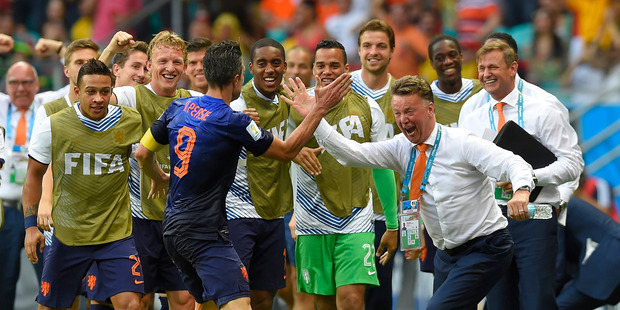 These Aussies have got fight, mate.
The Socceroos had every reason to get swamped by Chile after conceding two goals in the first 14 minutes on Saturday - that is a massive hole at this level. The South Americans were completely on song for a period after their brace of goals, but the green and golds showed remarkable fortitude to get back into the game. This isn't the most talented Australian team of all time, as the 2006 side were significantly better.
But Ange Postecoglou's side exhibited great spirit, as well as an admirable willingness to keep the ball on the ground. It's a dividend of the constant routine of tough matches in Asia, especially away from home.
They could have - and perhaps should have - snatched a draw, with Tim Cahill desperately close to a second headed goal. Cahill is a marvel, joining the select group of players to score in three world cups and leading the line with aplomb. His physical approach caused complaints among the Chilean defenders, though away from the television cameras the Chileans were doing their fair share of shirt tugging.
You are truly, definitely, only as good as your last game.
Iker Casillas has done it all in Spanish football. He captained Real Madrid when he was barely out of his teens and lifted the World Cup and European Championships in the course of more than 150 games for La Roja. But just like Andoni Zubizarreta at the 1994 World Cup, his legacy might be tainted by his disastrous performance in the rout at the hands of Holland.
The 32-year-old wasn't helped by some awful defending in front of him. Spain's recent success was built on a miserly defence - they didn't concede a single goal in the knock-out stages in South Africa (four consecutive 1-0 wins) and leaked just one in six matches at the 2012 European Championships. But Gerard Pique and Sergio Ramos looked all at sea against the Oranje, especially with the pace of Arjen Robben and Robin Van Persie.
No balls up from FIFA
Four years ago in South Africa Fifa, in conjunction with Adidas, managed to produce a ball that was impossible to keep under control. Remember the Jabulani? Even some of the most skilful exponents of the sport struggled to keep their shots on target, and many attempts would be blazed high and wide. It's early days, but a number of long range shots - and goals - in the games so far have shown that the Brazuca thankfully flies as true as a Bazooka.
It's just as well the All Whites didn't qualify
Mexico had to use all of their skills, guile and experience to get past a dogged Cameroon team. The Africans were disorganised, ill discipline and at times reckless but still put up a remarkably good fight and are a quality side. Imagine the All Whites, under the conservative tactical and selectorial approach of former coach Ricki Herbert, facing up to Cameroon, followed by Brazil then topped off by Croatia. Ouch.
Fortune favours the big boys
The Michael Jordan effect, so called because of the mesmerising effect that Jordan used to have on referees, who failed to see any of his fouls or indiscretions, also appears to be present at the World Cup. The big teams, especially home side Brazil, get the big calls. Exhibit A, the crucial second half penalty awarded to Brazil ; Exhibit B, several decisions that went against the Croatians in the same game.