The ability of a head knock to inflict lasting damage is unparallelled, which is why safety rules are changing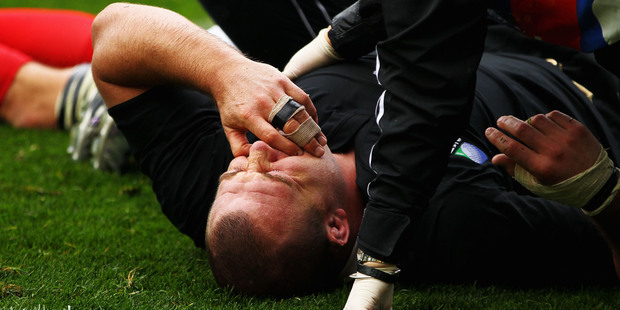 As much as the All Blacks want to win tonight, for some in their camp the bigger hope is getting 23 men safely out of Dunedin without incurring any major blows to the head.
Concussion is as much, if not more, of a threat to the All Blacks, than any opponent. Richie McCaw has been troubled by concussion way more than he has any defensive blitz or attacking trickery. Kieran Read was unstoppable last year, but two successive blows to the head in Super Rugby have meant he's barely got going in 2014.
The ability of a head knock to inflict lasting damage is unparallelled and almost half of tonight's starting team have, in the past few years, endured compulsory stand-downs after failing concussion tests.
Some, such as McCaw, Read and Conrad Smith, have endured multiple blows to the head which is why administrators around the world have increased efforts in the past few weeks to further protect the players.
Tonight's test will be played under new rules that will allow teams up to 10 minutes to assess players they suspect may have concussion.
Since 2012 the IRB has been trialling its sideline test which has been a major factor in seeing the number of concussed players return to the field drop from 56 per cent to 13 per cent.
Determined to drive that number down to zero - the IRB have increased from five minutes the length of time a player can be temporarily replaced while medics try to determine his or her condition.
It's a move welcomed by All Black doctor Tony Page who says the extension is another step in the right direction of accentuating the seriousness of any injury relating to the brain.
"We have a lot of head knocks each week but we generally wouldn't have a concussion every week," says Page. "Yes I do certainly feel relief. Probably like a parent watching that they play this game and they are okay. But that's not just concussion."
The All Blacks are doing what they can internally to promote a strong culture of honesty and player responsibility in relation to concussion. Page is confident players don't withhold information about head knocks or try to cheat the system that tests them.
He says that often his attention is alerted during a game to a potential concussion casualty by one of the other players. There is a culture of self-policing - of mates looking out for mates - which management endorse and encourage because in the past month reminders of the seriousness of head knocks have been everywhere. Former Chiefs captain Craig Clarke was forced to retire after failing to recover from a major blow to the head he sustained in January.
Former Kiwi and England rugby player Shontayne Hape revealed the harrowing story behind his premature retirement - and how he's fortunate to be alive after enduring sustained damage to his brain.
And then of course there has been the battle fought by Read. The past month has also shown both how much progress has been made in improving attitudes towards concussion and how much work still has to be done.
The All Blacks withdrew Read from the first test the instant he complained of concussion symptoms and this week, the Australian Rugby Union appointed a concussion specialist - a doctor designated to deal with just that single issue for all home tests.
But an investigation is currently under way to ascertain why Toulouse centre Florian Fritz was sent back out to play in the Top 14 semifinal when he was concussed.
The data coming out of England - they conduct extensive research every year on all injuries in the professional game - proves that concussion is becoming more prevalent.
There is no equivalent project in New Zealand but the increased physicality of the collisions and speed of the game make it probable that if the volume of concussions is not rising, they are at least holding steady at concerning levels.
"It is a contact sport and I guess if you get your head in the wrong way or going for the ball in terms of collisions ... it is going to happen," was Ma'a Nonu's view on how he feels about the potential risks he is taking.
"It is getting really physical in terms of the breakdown and trying to win the ball and trying to steal the ball. If we can get across safety in terms of knowing where to put your head ... I think the referee can help with that as well."