South American group living in Auckland gear up for expected celebrations, starting from kick-off tomorrow.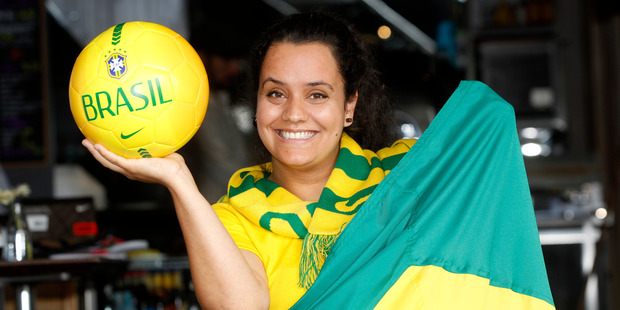 Brazil native Ana Paula De Jesus says her dream football World Cup final would be to see her countrymen play their arch-rival, Argentina, at a packed Maracana stadium in Rio de Janeiro.
And despite the pressure at home to win, she's confident of an unprecedented sixth tournament victory - followed by a wild celebration.
Originally from the capital city of Brasilia but now a New Zealand resident of nine years, Mrs De Jesus is among a group of the 3000 Brazilians living in Auckland who will be cheering on their side. A large gathering will be at Santos Cafe in Ponsonby, which is hosting its fifth round of World Cup screenings when Brazil kicks off the tournament against Croatia at the Arena de Sao Paulo tomorrow morning.
Mrs De Jesus has no pre-match superstitions but admits to crossing her fingers - before chewing her nails off - when Brazil take the field.
"I personally don't pray before games because I think God has too much to worry about without having to think about football."
The 32-year-old former restaurant manager said the pressure on Brazil to win the tournament was much like Kiwis' attitude to their rugby team.
"We expect to win, always, like New Zealanders with the All Blacks.
"Every time Brazil goes to the World Cup it's a huge thing, it's something we are passionate about - everything stops, you won't reach anyone in Brazil during the game.
"We never know what's going to happen but it would be very sad if Brazil lost the World Cup, I don't want to think about it but there would definitely be people crying about it."
Brazil are third in the Fifa rankings behind world champions Spain and European powerhouse Germany.
But the TAB has them favourite to win.
Mrs De Jesus said that with most kick-offs at the World Cup early in the morning it might be premature to drink Caipirinha cocktails although she and her friends would enjoy other Brazilian treats like misto (ham and cheese toasted sandwiches), pao de queijo (cheese bread), mortadella (pork sausage), and chocolate-covered carrot cake.
Asked what was likely to happen in her home country if Brazil did win another tournament, she said there would probably be a lot of partying.
"I wouldn't say like Carnival but it would be a big celebration, for sure."
South American heavyweights top of TAB's picks
Football punters are backing either Brazil or their neighbour Argentina to win the Fifa World Cup - but a smart bet could be on dark horse France, a TAB bookie says.
The hosts are TAB favourites, paying $3.75 to win their sixth tournament with Argentina next on the list to lift their third title ahead of Germany and current world champions Spain, who are ranked fourth with the betting agency.
The TAB's senior football bookmaker, Gary Pearn, said betting on the World Cup in New Zealand would top $20 million - making it one of its biggest sports betting events alongside the Rugby World Cup and ahead of the Olympics.
He said punters were backing Brazil, with one person betting $10,000 on the team to win the final next month, and he expected bigger bets to start flooding in after the group stage finished.
Argentina were also attracting a lot of interest which Mr Pearn said was no surprise as five of the top six predicted goal-scorers are either Brazilian or Argentinian.
"Every time there's been a tournament in South America, South American teams win."
Mr Pearn said a lot depended on how the groups progressed but he believed it was unlikely Brazil and Argentina would meet in the final.
"We can see some very strong groups - in one you have Spain, the Netherlands, Chile and poor Australia - who'll be very lucky to get a point.
"The other really strong group is the one England find themselves in with Italy and Uruguay, who have Suarez and Edinson Cavani, two prolific strikers up front.
If you compare that to Argentina who have Bosnia, Nigeria and Iran ... there's quite a gulf between the previous group and that one."
A smart bet could be France, who are paying $20 to win: "They're in a group where they should progress without too many problems."
"I'd be very keen on Argentina. Messi on the world stage hasn't really lit it up; if he does this time they could well be unstoppable."
Kiwis have until midnight tonight to take a shot at $5 million at the TAB - its largest prize pool ever - by correctly picking all 64 game results.
TAB Football Ambassador Paul Ifill thinks Argentina will beat Brazil. "I think the pressure of the home crowd will be too much."