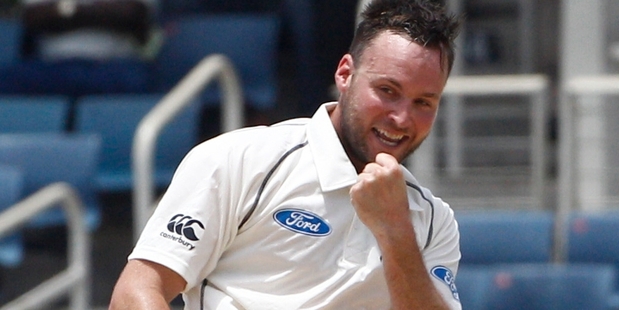 Mark Craig headed to the Caribbean to a general murmur of "Mark who?"
That was a touch unfair, given he'd been around the domestic game for several seasons, albeit without having often hit the high notes for Otago. He'd taken 43 wickets from 22 first-class games but had a reputation as a tidy operator.
Craig was not first choice for the tour of the West Indies. He got his chance when Wellington veteran Jeetan Patel said "thanks but no thanks" to the selectors, and former captain Dan Vettori, working back to full fitness, was not considered ready to return to a test-heavy itinerary in the Caribbean.
Four wickets on debut to help send the West Indies' batting into a spin at Sabina Park yesterday therefore left Craig reflecting on "a dream start".
It brought to mind the selection of Peter Taylor, another offspinner, for Australia at Sydney in the 1986-87 Ashes series.
He'd played just six first-class games and the smart alec end of the Australian cricket media group assumed the selectors had meant to select the tubby opening batsman, and soon to be captain, Mark Taylor, and got their Taylors muddled.
"Peter who?" roared the headlines.
Peter Taylor didn't take the slight well but responded with six for 78 in England's first innings, valuable second innings runs and eight wickets in the match to be named man of the match in a 55-run win.
Craig got cracking with two wickets in an over, opener Kieran Powell and Kirk Edwards, and added bowlers Kemar Roach and Sulieman Benn to his bag later as the home side were dismissed for 262, a first innings deficit of 246.
He extracted turn and bounce from the sluggish pitch to share the honours with Tim Southee, whose four for 19 from 16.2 overs was an outstanding return.
Aucklander Craig, who shifted to Otago looking for an upswing in fortunes, doubtless occasionally thinks back four years when a bout of chronic fatigue syndrome laid him low for 11 months.
How his lot has changed. It's wise not to read too much into a first up test performance. But certainly it was encouraging and, given his back story, immensely satisfying for Craig.