Last year's victory in Sandy a turning point for Kiwi who lines up today in the US Open.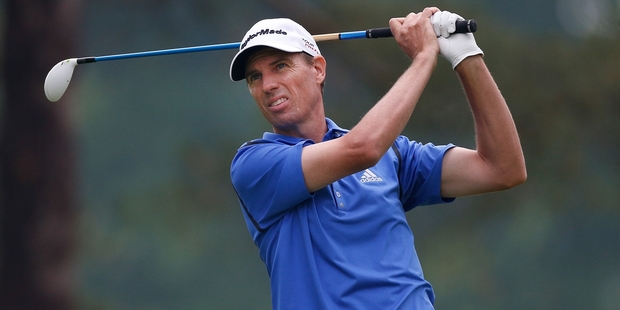 Sandy, Utah. Population: 89,344. It's the sixth-largest city in Utah, counts 18 per cent of its residents as accountants or auditors and it was also the birthplace of professional wrestler Jim Fullington, better known by his ring name "The Sandman" who had a notable run during the glory years of the now-defunct ECW.
But Sandy is also the place where Hamilton's Steven Alker gave his golf career a second chance.
Between 2010-2012 the Phoenix-based professional made only 11 cuts from 56 events on the second-tier Web.com Tour and held very limited status as he eyed the 2013 season.
Alker staggered through the beginning of last year, although he did make a surprise appearance at the US Open where he finished in a share of 45th after coming through sectional qualifying. But when Alker arrived in Sandy last July for the Utah Championship at the Willow Creek Country Club, something clicked.
"It was just kind of my week," Alker recalled.
He was right too. Spurred by a 10-under 61 in the third round, Alker powered his way to victory in a playoff over Australian Ashley Hall as he picked up his first win in more than four years.
"It's a fine line between playing well and playing really well," Alker said. "At the time I was putting the ball well and wasn't quite getting the ball in the hole and it was frustrating. But I knew I had to hang in there, keep working on my putting, stay patient and I just started rolling a few putts in."
Alker eventually finished last season agonisingly close to securing a card for this year's PGA Tour but returned to the Web.com circuit in 2014 with a renewed confidence.
"Having the win in Utah just sparked me a little bit," Alker said. "I was still working hard with the game and you're out there trying to win but that sparked me to think 'I've still got it, it's still there; I still know how to win'."
Alker backed up that thinking when he slogged through a Web.com Tour-record 11-hole playoff to beat Dawie van der Walt to win the Cleveland Open on Monday.
The victory saw Alker jump from 102nd on the tour's order of merit to 12th and if he can finish this year inside the top 25 he will book his ticket back to the show for next season.
The 42-year-old, who has worked hard on his fitness during the past year, also has a start in today's US Open at Pinehurst in North Carolina after coming through sectional qualifying in California last week.
The last time a Kiwi came through qualifying to play the US Open at the Pinehurst Resort, it ended with Michael Campbell claiming the 2005 title.
Alker, who only played Pinehurst No 2 for the first time this week during his practice rounds, didn't want to make any bold predictions about history repeating.
"Stranger things have happened but I'm just going to go up there this week and play," Alker said.
After this week, Alker will play Web.com Tour tournaments in Kansas and Indiana before taking a week off ahead of defending his Utah Championship crown next month at Willow Creek.
"It's always good when you come back as defending champion and it's my type of course too."
Sandy might not be Utah's most glamorous city but it will have one willing visitor in July.