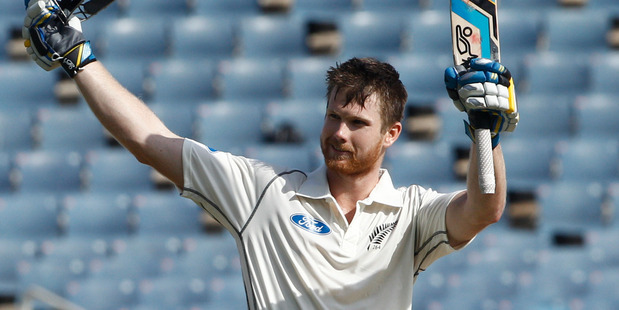 Sporting careers, for better or worse, can turn on details which seem small at the time.
Think Brian McKechnie, who only got on the field against Wales in Cardiff in 1978 after fullback Clive Currie was injured in the opening minutes. If not for that, McKechnie would not have kicked the winning penalty, arguably still the most dramatic in All Black test history in the dying moments, which enshrined his name in All Black folklore.
Or Greg Loveridge, the Central Districts legspinner who, on debut against Zimbabwe in Hamilton in 1996, broke a finger before even bowling a ball, and was never sighted near a New Zealand team again.
When New Zealand decided not to risk legspinner Ish Sodhi for the second test against India at the Basin Reserve in February, they turned to a five-strong fast-medium attack, and gave a debut to allrounder Jimmy Neesham.
The assertive lefthander responded, not so much with the ball, but with a memorable 137 not out, the highest score by a debutant at No8 in test history.
You may not remember much about the innings - as you wouldn't about Virat Kohli's fabulous century on the final afternoon of that match either - because of Brendon McCullum's triple century heroics.
Neesham might then have missed selection for the first test against the West Indies had his allround rival Corey Anderson not damaged a neck muscle in the leadup.
The suspicion is Anderson, rated the better batting allrounder, would have been preferred, although you won't get New Zealand team management saying as much. After all, you don't rain on a teammate's parade.
In time, might that neck injury come to be seen as a prophetic twist in the tale of the two tyros with the cricket world at their feet?
Now, having become just the eighth player to have scored centuries in his first two tests, Neesham will be hard to shift, certainly in the short term. Fitting both players into the same XI is difficult, but not impossible, as that Basin test showed.
After his century in his third test innings in Dhaka last October, subsequent thunderous limited-overs deeds, and a bulging Indian Premier League deal with the Mumbai Indians, Anderson now finds himself potentially on the outer looking in for the remainder of the West Indies tour.
Neesham, having put on 179 with McCullum against India, shared a 201-run stand with the gritty, adhesive wicketkeeper BJ Watling yesterday at Sabina Park, 19 shy of the sixth wicket record in the Caribbean, by Glenn Turner and Ken Wadsworth on the same ground 32 years ago.
Neesham yesterday once again demonstrated an ability to pick his moments to attack, and was comfortable lofting down the ground to help lift a pedestrian run rate on a snail-paced pitch.
Of the eight, only Neesham, Alvin Kallicharan, Sourav Ganguly and Rohit Sharma got their centuries in consecutive innings; Neesham is alone in getting his in different countries and against different countries.
First McCullum's triple hundred, now this. Record-setting days to savour.
Two Ton Club
Players to have scored centuries in their first two tests
Bill Ponsford (Australia) 110 and 128 v England, 1924-25
Doug Walters (Australia) 155 and 115 v England 1965
Alvin Kallicharan (West Indies) 100 not out and 101 v New Zealand 1972
* Mohammad Azharuddin (India) 110 and 105 v England, 1984-85
Greg Blewett (Australia) 102 not out and 115 v England, 1994-95
Sourav Ganguly (India) 131 and 136 v England, 1996
Rohit Sharma (India) 177 and 111 not out v West Indies, 2013
Jimmy Neesham (NZ) 137 and 107 v West Indies 2014
* Azharuddin is the only player to have scored centuries in his first three tests.