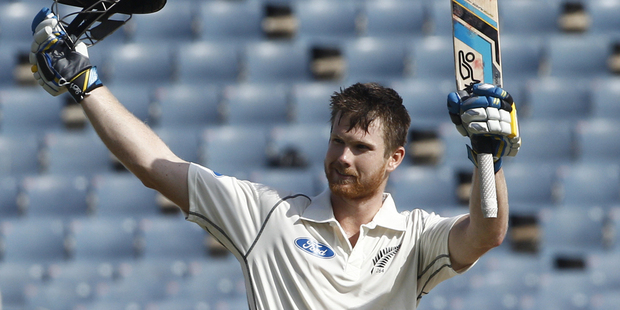 Boy, Jimmy Neesham knows how to pile on the pressure.
First, he's placed New Zealand in an imperious position on the second day of the first test against the West Indies with 107 in 216 minutes off 171 balls.
When the innings threatened to crumble, he and B-J Watling (89) put on 201 for the sixth wicket to ensure the tourists will struggle to lose.
Even Chris Gayle, in his 100th test on his home ground Sabina Park, will need to summon all his chutzpah to help the hosts match New Zealand's 508 for seven.
Stumps wrap: New Zealand on top after day two
Neesham's contribution means New Zealand has been able to declare for the first time in the first innings of an overseas test since October 2008 against Bangladesh.
Second, given the way Neesham flayed spinners Sulieman Benn and particularly Shane Shillingford, they're going to feel threatened all series knowing he's prepared to waltz down the wicket and strike them out of the game.
Replay: Live chat with Jimmy Neesham
Neesham v Anderson dilemma
Most of Neesham's runs appeared to come from genuine cricket strokes which is commendable, given the diet of T20 cricket he's endured with the Delhi Daredevils in the Indian Premier League over the last couple of months.
Perhaps it was fortuitous he only played three matches and scored 42 runs from 46 balls.
Third, where does this place Corey Anderson? Anderson was a revelation over summer, particularly in shorter forms with the fastest ODI century in 36 balls at Queenstown on New Year's Day.
From the archives: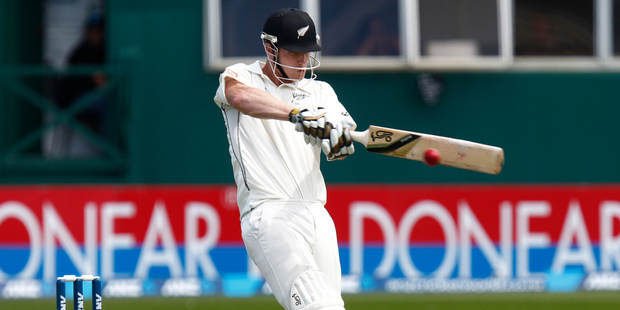 Neesham makes own history on debut
The Mumbai Indians invested $866,000 in his IPL services. His test performances, including a century at Dhaka, have also been solid.
Yet, Neesham has upped the stakes - if we're permitted to use such gambling parlance in relation to cricket these days.
There appears little between their bowling attributes, so for Neesham to make 137 not out against India at Wellington - the highest score by a No.8 batsman on debut after sitting in his pads for almost nine hours and 123 overs - and back it up with a century at Kingston is stupendous.
It's an unfortunate time for Anderson to strain a neck muscle because there isn't room for both of them in the side.
Neesham's become one of just eight cricketers, and the first New Zealander, to score centuries in his first two tests.
He's joined a batting group which includes Australians Bill Ponsford, Doug Walters and Greg Blewett, Indians Mohammad Azharuddin, Sourav Ganguly and Rohit Sharma, and West Indian Alvin Kallicharran.
Azharuddin has the distinction of scoring hundreds in his first three tests.
Regardless of the pomp and ceremony associated with that feat, the real benefit to New Zealand is his strengthening of the country's overall test game.
That number of runs on the board galvanises a fielding side and the bowlers have been gifted an extra security blanket which enables them to focus on attack.
Centuries in first two tests
Bill Ponsford (Australia) vs England, Sydney and Melbourne, 1924-5
Doug Walters (Australia) vs England, Brisbane and Melbourne, 1965-66
Alvin Kallicharran (West Indies) vs New Zealand, Georgetown and Port of Spain, 1972
Mohammad Azharuddin (India) vs England, Kolkata and Chennai, 1984-85
Greg Blewett (Australia) vs England, Adelaide and Perth, 1994-95
Sourav Ganguly (India) vs England, Lord's and Notthingham, 1996
Rohit Sharma (India) vs West Indies, Kolkata and Mumbai, 2013
Jimmy Neesham (New Zealand) v India and West Indies, Wellington and Kingston, 2014