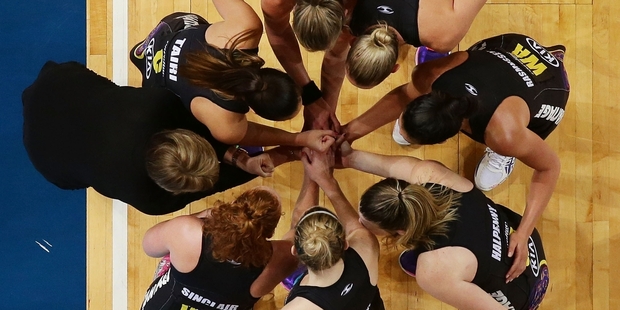 Today's naming of the Silver Ferns team to defend their Commonwealth Games title looms as a major distraction for the Magic as they prepare for their next playoffs showdown.
The Magic's opponents for next weekend's preliminary final were confirmed last night, with the Waikato-Bay of Plenty side to meet the Firebirds for a spot in the title decider against the Vixens in Melbourne. The Vixens enjoyed a five-goal win over the Firebirds in the major semifinal.
But many of the Magic players would have been watching their phones just as closely as the television last night, with several waiting nervously to see if they had done enough to earn Games selection.
The national selectors will reveal their 12-strong team for Glasgow at 1pm - news that has taken on a new level of interest after the shock retirement of Irene van Dyk.
Captain Casey Kopua and her defensive partner at the Magic, Leana de Bruin, needn't worry about their position in the team, but for the Magic's fringe Ferns - Grace Rasmussen, Courtney Tairi and Ellen Halpenny - today's announcement could bring joy or disappointment.
Rasmussen has been New Zealand's form wing attack in the ANZ Championship this year, but having not played for the Ferns since the last Commonwealth Games in 2010, it is not a straightforward call to include the 26-year-old at the expense of one of the incumbents.
Tairi is also in the Ferns midcourt mix, although she slipped down the pecking order after the Constellation Cup last year.
The selectors will also have been looking a lot more closely at shooter Ellen Halpenny over the past few days after van Dyk's decision to pull the pin on her 217-test career.
Halpenny has had an impressive season with the Magic, forming a strong partnership with English import Jo Harten. But the selectors will most likely look for a straight replacement at goal shoot, rather than bring Halpenny, a goal attack, into the fray and force the likes of Jodi Brown to change position.
With disappointments inevitable, Magic coach Julie Fitzgerald will have to keep the emotions of her players in check as they focus on Sunday's playoff. The Firebirds were the form team of the top four, having accumulated six straight wins.
But as the Magic proved in their surprise one-goal win over the Swifts in their minor semifinal, lead-in form means little. A 16-9 opening-quarter blitz from the Vixens forced the visitors into chase mode and although they fought back strongly, they were never able put the Vixens under enough pressure for long enough.