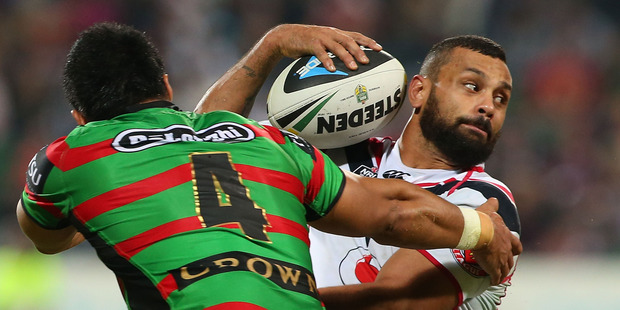 The Warriors' second-half collapse against South Sydney in Perth on Saturday night was a stark reminder of their glaring shortcomings.
After a week in which they were described by Australian commentators as potential title threats, Andrew McFadden's side wilted against the injury-ravaged Rabbitohs and let slip an eight-point advantage to concede five tries in the last 23 minutes.
The Warriors were kicking themselves afterwards, knowing they had missed a golden opportunity to improve on their 12th position on what is a congested NRL ladder.
"It was very disappointing, obviously. I thought given the circumstances around the opposition, they were cherry ripe, really, for the picking," McFadden said after the game.
"Fifteen minutes into that second half they hung in there and we went away completely from what we were practising and just lost our way."
A drop in intensity and five second-half errors to the Rabbitohs' none allowed Souths to fight their way back into the match, after the Warriors had dominated the opening half with some blistering early attack and a quick and aggressive defensive line.
The Warriors could be forgiven for nodding off, considering it was almost 1.30am NZ time by the time the match ended, but McFadden refused to use the time difference or travel factor as an excuse for the loss.
"No I don't think so. We prepared well. I thought given the possession flow in the first half we hung in there and we were obviously still leading at halftime and our energy looked good, and even in stages in the second half it looked good. We just weren't focused and weren't concentrating on what we had practised and it hurt us in the end."
More likely the Warriors felt the effects of a torrid first half, in which they repelled four attacking sets before eventually cracking to allow New South Wales Origin hopeful Dylan Walker in for the first of his two tries. From the kick-off, they backed up to hold out the Rabbitohs for a further three sets, before getting their hands on the ball and showing remarkable enthusiasm to clear their half.
Lesser sides would have buckled under such pressure and found themselves trailing by halftime. However, despite having come on in leaps and bounds in the two months since McFadden entered the scene (four wins/four losses), the manner of their second-half fade proved they remain a work in progress.
"Our last six weeks of football have been really good and we've just got to get back to what works for us.
"It did show some weakness in us there tonight but we'll address that and train hard and I know we'll bounce back because we're a quality side," McFadden said.
"We went away from our plan which was working and ultimately they had a huge amount of possession against us and that told in the end. Even the way the tries were scored, that hasn't been us for the last month. It's very disappointing because they were soft tries."
This weekend's bye looks to have come at the right time. With three months of football under their belt the Warriors will be pleased to rest some weary bodies and recharge the batteries before returning to action with two home games against the Broncos and table-topping Panthers.