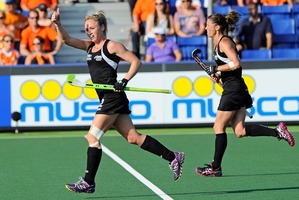 New Zealand's job in their final pool game at the World Cup is simple: beat Australia and they are in the frame to win a medal.
After beating Japan 4-1 in their fourth pool A game in The Hague the women's Black Sticks sit fourth on six points, but a win over second-placed Australia on Monday night will lift them into second place.
That's assuming the top ranked and unbeaten Netherlands don't get beaten by Korea in their final pool game.
New Zealand coach Mark Hager was pleased with the win, but knows more hard work is needed before playing Australia.
''We did well today to come away with a result. We still lacked some finishing up front but we were able to put away some goals and two penalty corners," he said.
"Unfortunately we had a bad game against Korea (which New Zealand lost 1-0) and that could come back and bite us in the bum."
World No 5 New Zealand began strongly today and were up in the fifth minute, through a Sophie Cocks goal, deflecting an Anita Punt drive from a penalty corner.
Japan slowly worked their way into the game and missed an open chance when New Zealand's defence got sloppy.
However two goals within a minute early in the second spell - a Punt drive from another penalty corner and a goal from close range by Katie Glynn - had New Zealand in charge.
Japan got one goal back through Yuri Nagai - after an odd series of decisions which turned a New Zealand breakaway into a bully just outside the New Zealand circle -- before the impressive Punt closed out the win, capitalising on a fine cross field ball from fellow midfielder Stacey Michelsen to score with a strong reverse stick shot two minutes from the end.
New Zealand racked up 10 penalty corners but regular trapper Emily Naylor had big problems controlling the ball, an area the Black Sticks will need to be sharp on against world No 4 Australia tomorrow.
Korea kept their noses in front of New Zealand with a 4-2 win over Belgium while the Dutch beat Australia 2-0, a key result for Black Sticks hopes.
New Zealand's men play Germany tonight (crrt) in a clutch game for their semifinal aspirations.
They sit second behind the Netherlands in pool B, whom they meet in their final round robin game.