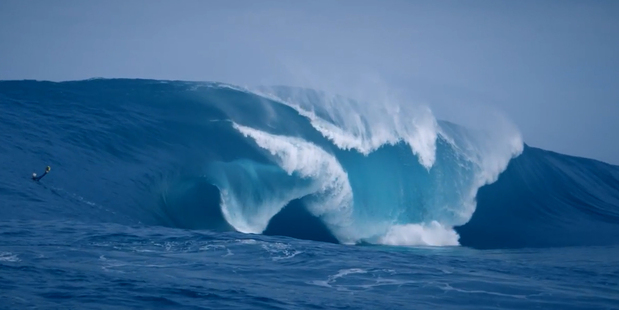 From unintentional racist supporter gear to fun times with The Woz and Serena, Daily Shorts looks at the light hearted side of sport.
Aussie surfer Ryan Hipwood almost died in 2012 while attempting to ride one of the most dangerous surf spots in the world. So as most surfers do, he returned to Perth's 'The Right', to finally conquer a location where massive amounts of water turn into fast-paced barrels.
Bad look
These wearable England flags, sold by British supermarket chain Asda, seem like a great way to support your team during the World Cup, until you realise they look very similar to Ku Klux Klan hoods. Asda have now taken them off the shelf.
Asda are selling wearable England flags, they look dodgy to say the least... pic.twitter.com/cGBsSdQyP9

— Kieran (@KieranCPhoto) May 29, 2014
Note to Phoenix owners...
This is how you boost crowd attendance. Japanese division one side Omiya Ardija increased their fan numbers thanks to some spare cardboard boxes and team shirts. Not a very vocal bunch though.
Japanese team Omiya Ardija use cardboard fans to full up space in their stadium. pic.twitter.com/i2y8MQktaN

— 3rd Eye (@3rdEyeNot) May 31, 2014
Who are ya?
As England's 24-man squad prepared to board a flight to Miami for two pre-World Cup friendlies ahead of the tournament in Brazil, a familiar - if non-sporting - face mingled among the 23 players.
It was British actor Simon Brodkin, a BBC comedy star, who wore an identical gray suit to the players and also brandished a passport, AP reports.
Comedian Simon Brodkin tried to board the England team's plane to Miami earlier. Jack Wilshere & co look amused! pic.twitter.com/yboiU2MDgf

— Chris Wheatley (@GoonerTalk) June 1, 2014
Captain Steven Gerrard appeared to spot Brodkin first, and members of security and local police then intervened. Brodkin was spoken to by a police officer before leaving the area.
In April 2013, Brodkin got a six-month conditional caution after warming up with the Manchester City team ahead of a match against Everton at Goodison Park the previous month.
Sadly he was the only fan who turned up to see the team leave.
That's a lot of popcorn

Rory who?
Caroline Wozniacki is fast getting over her broken engagement to golfer Rory McIlroy and her first round exit from the French Open. Wozniacki and fellow Roland Garros early leaver, Serena Williams have been painting Miami red. The pair celebrated with the Miami Heat after they clinched the Eastern Conference title on Saturday, before heading to the beach and crashing a wedding.
McIlroy didn't seem too distracted in Ohio, where he earned $US102,300 in a 15th placed finished at the Memorial Tournament.